Mary Lynn Engel Named Director of Communications at Martin's Point Health Care
Mary Lynn Engel has been named the Director of Communications at Martin's Point Health Care in Portland. She will be responsible for building the Martin's Point brand through integrated internal and external communications.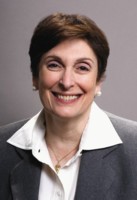 "Mary Lynn brings a great depth of talent and experience to this new position," said Dr. David Howes, M.D., President and Chief Medical Officer at Martin's Point. "During this period of progress and growth, we are fortunate to have someone of her caliber to lead our communications."
Engel previously served as the Vice President of Corporate Communications at Ameritech Corp. in Ohio, and as a communications consultant serving Case Western University and the Cleveland Clinic. She is a member of the American Marketing Association, the New England Society for Healthcare Communications and the Maine Public Relations Council.
A resident of Yarmouth, Engel received a Master of Science in Marketing Communications from Roosevelt University in Chicago and an undergraduate degree from Miami (Ohio) University in Oxford.
Martin's Point Health Care is a not-for-profit health care plan administrator and clinical services provider with facilities in Maine, and Portsmouth, N.H. Martin's Point serves patients with all major health plans in the areas of family practice, internal medicine, pediatrics, surgery, radiology, cardiology, mammography, and other fields. Martin's Point administers the U.S. Family Health Plan in Maine and New Hampshire. The U.S. Family Health Plan is a TRICARE Prime option offering health care coverage to military retirees and their dependents and to the families of active-duty personnel. For additional information, visit
www.martinspoint.org
.
# # #
NOTE: Wolfe News Wire is an online source for news and information about noteworthy companies and organizations. We invite you to share this content and/or leave a comment. Background info and past news items from a specific organization can be found by clicking the side logos. For more info, please email info@wolfenews.com. Thank you!
©2015 Wolfe Public Relations. All Rights Reserved.