Kenneth G. Thompson Joins TD Wealth as Head of U.S. Investments
TD Wealth provides clients with customized private banking and wealth management services
NEW YORK (February 13, 2013) – TD Wealth® has appointed Kenneth G. Thompson as Senior Vice President and Head of U.S. Investments. TD Wealth provides clients with customized private banking and wealth management services in partnership with TD Bank, America's Most Convenient Bank®.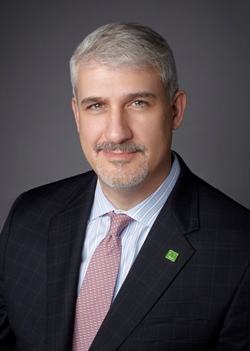 Based in New York City, Thompson will oversee TD Wealth's investment products and services as well as lead a team of accomplished professionals in delivering comprehensive investment solutions to clients from Maine to Florida.
The addition of Thompson is part of TD Wealth's robust expansion strategy for the U.S. business, providing private banking and wealth management services to a growing pool of clients throughout TD Bank's footprint.
"I'm pleased to welcome Ken to TD Wealth and I congratulate him on his new position," said Brandon Williams, Head of TD Wealth in the U.S. "Ken brings a tremendous amount of experience in investment and product management to the organization and will play a key leadership role as we grow TD Wealth."
Thompson has more than 26 years in the investment management business, with extensive experience in both sales management and product development and expansion. Prior to joining TD, Thompson served in a dual role at M&T Bank and Wilmington Trust as Division Head of Asset Management and Brokerage, and President and CEO of M&T Securities, Inc.
Thompson received a Bachelor of Science in Economics and Finance from Allegheny College in Meadville, Pa.
About TD Wealth®
Through TD Wealth, TD Bank, N.A. and its subsidiaries partner with high net worth individuals and institutions to help build, preserve and transition wealth. Delivering private banking and wealth management services for more than 80 years, TD Wealth is committed to helping personal investors, institutional and non-profit organizations achieve their unique financial goals by building long-lasting relationships, and sharing the resources of one of the 10 largest financial institutions in the U.S., TD Bank, America's Most Convenient Bank®. From private banking, portfolio management, private trust, and estate planning, to institutional trust, including retirement planning, captive insurance and trustee services, TD Wealth creates and delivers customized and integrated wealth management solutions. TD Wealth is a service mark of The Toronto-Dominion Bank. For more information, visit http://www.tdbank.com/investments.
# # #
NOTE: Wolfe News Wire is an online source for news and information about noteworthy companies and organizations. We invite you to share this content and/or leave a comment. Background info and past news items from a specific organization can be found by clicking the side logos. For more info, please email info@wolfenews.com. Thank you!
©2015 Wolfe Public Relations. All Rights Reserved.