Featured News

Carl Lynde of TD Bank Named Outstanding Community Service Banker by Vermont Bankers Association
A Brattleboro-based commercial banker, Lynde honored for his deep commitment to civic and community engagement
BRATTLEBORO, Vt. (September 28, 2018) – Carl M. Lynde of TD Bank, a long-time commercial banker in Brattleboro, has received the 2018 Outstanding Community Service Banker Award from the Vermont Bankers Association.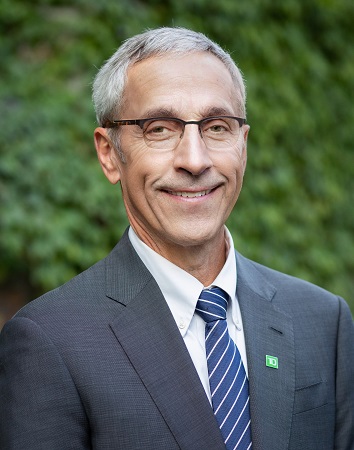 The VBA recognized Lynde for his deep commitment to and support of businesses and non-profit organizations in Brattleboro and across southern Vermont over more than three decades serving in his community.
Each year the Vermont Bankers Association honors a member of the banking industry for their devotion of service through civic and community engagement. Lynde received the award at the association's annual conference earlier in September.
"One definition of a commercial banker and a community banker in particular is an individual who looks to support and improve the health of the community in which they live by supporting local businesses through banking activities, advocacy and personal patronage; supporting the economic development and vibrancy of the community through advocacy and direct involvement in business associations; and supporting the social fabric of the community through direct involvement in non-profits that provide vital services to the community," VBA President Christopher D'Elia wrote in prepared remarks. "For more than 30 years, Carl Lynde has been that community banker for Brattleboro."
Lynde is a Vice President at TD Bank with 33 years of banking experience. He joined TD Bank in 1984 as an Assistant Vice President, Commercial Lender. He is now a Senior Commercial Relationship Manager, providing financing, treasury and banking solutions to commercial clients throughout southern Vermont.
"Being recognized by the Vermont Bankers Association for Outstanding Community Service Banker Award is a great honor and accomplishment for Carl Lynde," said Phil Daniels, Market President-Commercial for Vermont at TD Bank. "At TD Bank, we know our greatest asset is our people. As the human bank, it's imperative that we seek ways to better understand and respect one another, and reflect the brilliant diversity of the communities we proudly serve."
Lynde, 62, has an extensive and varied history of involvement in civic, community and economic development activities and organizations. He is a Past President and longtime member of the Brattleboro Area Chamber of Commerce, a 25-year member of the Brattleboro Sunrise Rotary Club and has served for many years as a board member for Building a Better Brattleboro.
Lynde also served for more than 25 years as a member of the Brattleboro Development Credit Corporation (BDCC), including on the Board of Trustees from 1992-2015 and Board President for three of those years. During that span, BDCC went from a struggling development corporation to a vibrant engine of growth that supports business startups and growing companies through the commercial real estate it owns and manages.
Lynde also volunteers with United Way and has served on the boards for the Winston Prouty Center, Thompson House and Brattleboro Union High School district. In addition, he served on the Board of Directors for Brattleboro Memorial Hospital for more than 10 years, including as Board Chairman, helping guide its growth and strategic advances such as the new emergency room project, the development of the Center for Wound Healing, the establishment of Putney Family Healthcare and the affiliation with New England Alliance for Health (NEAH).
Lynde is a resident of Brattleboro with deep family roots in the area. He is a graduate of Nathaniel Hawthorne College.
About TD Bank, America's Most Convenient Bank®
TD Bank, America's Most Convenient Bank, is one of the 10 largest banks in the U.S., providing more than 9 million customers with a full range of retail, small business and commercial banking products and services at more than 1,200 convenient locations throughout the Northeast, Mid-Atlantic, Metro D.C., the Carolinas and Florida. In addition, TD Bank and its subsidiaries offer customized private banking and wealth management services through TD Wealth®, and vehicle financing and dealer commercial services through TD Auto Finance. TD Bank is headquartered in Cherry Hill, N.J. To learn more, visit www.tdbank.com. Find TD Bank on Facebook at www.facebook.com/TDBank and on Twitter at www.twitter.com/TDBank_US.
TD Bank, America's Most Convenient Bank, is a member of TD Bank Group and a subsidiary of The Toronto-Dominion Bank of Toronto, Canada, a top 10 financial services company in North America. The Toronto-Dominion Bank trades on the New York and Toronto stock exchanges under the ticker symbol "TD". To learn more, visit www.td.com.
# # #
NOTE: Wolfe News Wire is an online source for news and information about noteworthy companies and organizations. We invite you to share this content and/or leave a comment. Background info and past news items from a specific organization can be found by clicking the side logos. For more info, please email info@wolfenews.com. Thank you!
©2015 Wolfe Public Relations. All Rights Reserved.