Celebration of 40th Anniversary of Dave McGillivray's Historic Cross-Country Run to Benefit the Jimmy Fund Set for Aug. 23
Boston Marathon race director and renowned endurance athlete will commemorate milestone by again running into Fenway Park as part of Red Sox pre-game ceremony
BOSTON (August 8, 2018) – A day of celebration is planned to mark the 40th anniversary of Boston Marathon race director Dave McGillivray's historic solo 3,452-mile run across the U.S. – from Medford, Oregon to Medford, Mass. – to benefit the Jimmy Fund.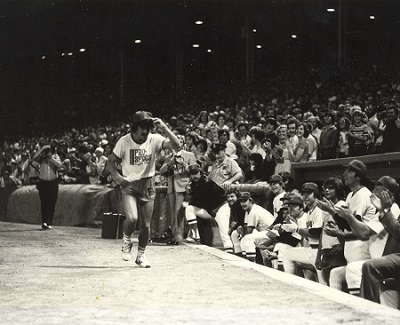 The Aug. 23 event will culminate – as it did in 1978 – with McGillivray running into Fenway Park and circling the field to the cheers of fans as part of a pre-game ceremony before the Red Sox-Indians afternoon game.
And as in 1978, McGillivray will again raise funds for the Jimmy Fund of Boston, the fundraising arm of the Dana Farber Cancer Institute, in conjunction with the event. He has set a goal to raise $100,000 by Sept. 23, which marks the 30th anniversary of the Boston Marathon Jimmy Fund Walk that he helped create. To visit his fundraising page, click here.
Forty years ago, McGillivray, now a renowned race director, motivational speaker, philanthropist and endurance athlete, was a 23-year-old recent Merrimack College graduate from Medford determined to achieve his dream of running across the country to raise money for charity. He set out on his Run Across America on June 11, 1978 in Oregon, crossing the Nevada desert, Rocky Mountains and passing cornfields of the Midwest before completing the improbable trek 80 days later, on Aug. 29, in his hometown. Later that night, he made a triumphant run into Fenway Park to a standing ovation from 32,000 fans, running several laps.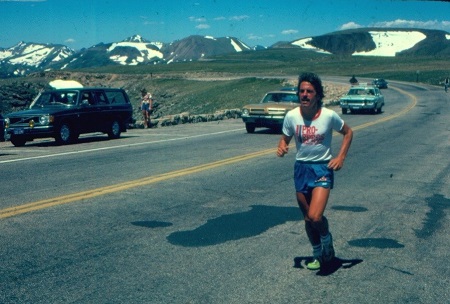 McGillivray and later his event management company, DMSE Sports, became pioneers in what is now one of the most important aspects of the endurance sports industry – combining athletics with philanthropy. Runner's World said his 1978 achievement was one of first times someone combined running with fundraising for cancer research. He and the races he has managed through DMSE Sports have raised millions for charity over the years.
"Running into Fenway Park on August 29, 1978 after running 3,452 miles across America for the Jimmy Fund remains as the absolute highlight of my athletic career," McGillivray said. "It proved that anything is possible and gave me the confidence to continue to set goals in my life, not limits. It's 40 years later and I feel the same way today as I did back then. I also learned about giving back and about being grateful for all that I am blessed to have. My relationship with the Jimmy Fund has a special place in my life and I will never stop supporting all the good work they do."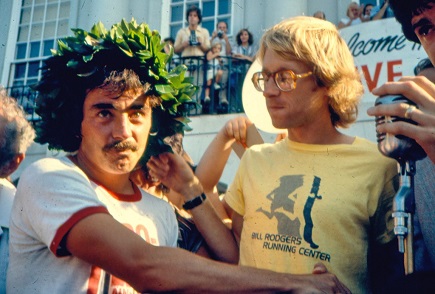 He continued, "Running into Fenway Park again to mark this 40th anniversary of my cross-country run will be another highlight and another opportunity to raise awareness and funds for a great cause."
The Aug. 23 celebration will begin with a brief ceremony at 10 a.m. at Medford City Hall, followed by a run by McGillivray with four-time Boston Marathon winner Bill Rodgers from Medford to Fenway Park. McGillivray will then run into the storied ballpark as a video clip plays his 1978 lap around Fenway in the background.
McGillivray's feats of endurance are legendary – and all for good causes. A partial list of his Jimmy Fund-related accomplishments in the years since includes: Run up East Coast, 1980 (1,520 miles); New England Triathlon, 1981 (1,522 miles); Martha's Vineyard swim, 1982 (7 miles); 24-hour swim, 1983 (26.2 miles); and a 24-hour bike ride, 1986 (385 miles).
Additionally, he has completed nine Hawaii Ironman Triathlons and 155 marathons in all, including the World Marathon Challenge earlier this year – seven marathons in seven days on seven continents. (see full list of accomplishments below)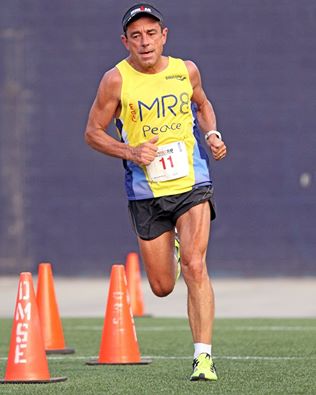 McGillivray, 63, also has run 46 straight Boston Marathons, including the last 31 at night after completing his duties directing the world-famous race. Later this month, McGillivray will complete his annual birthday run – running his age in miles – with a 64-mile run. (His actual birthday is Aug. 22, a day before the Fenway celebration). He has completed his birthday run every year since age 12.
And the day after the 40th anniversary celebration – on Aug. 24 – McGillivray plans to return to Fenway Park to direct the second annual Fenway Park Marathon, an event organized by DMSE Sports. DMSE is a leader in the sports management field, managing more than 30 running events and races a year throughout the U.S. – from Maine to California.
McGillivray, a Medford native who now lives in North Andover, Mass., is also known as an inspirational speaker who gives talks to schoolchildren and a variety of groups throughout the country. He just published a children's picture book called "Dream Big", about his first attempt at running the Boston Marathon and based on his 2006 autobiography, "The Last Pick", which intimately recounts the mental and physical obstacles McGillivray faced that led to his 1978 cross country run. His story has inspired countless people to reach their own goals. And in 2019, McGillivray will launch his second children's illustrative book titled "The Home Run", which chronicles his 1978 run. Proceeds from the new book will benefit the Jimmy Fund.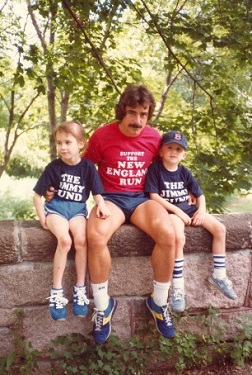 McGillivray also has a story to tell about his health. He was diagnosed with coronary heart disease in the fall of 2013 and went public with his disease to urge others like him to get checkups and help them understand that "being fit doesn't mean being healthy." That health scare prompted McGillivray to change his diet, eliminate stress and rededicate himself to fitness. He lost about 25 pounds and lowered his cholesterol level by more than 100 points, reversing his coronary disease by almost 50 percent.
About the Jimmy Fund
The Jimmy Fund solely supports Boston's Dana-Farber Cancer Institute, raising funds for adult and pediatric cancer care and research to improve the chances of survival for cancer patients around the world. Since its founding in 1948, the Jimmy Fund has raised millions of dollars through thousands of community fundraising events. Find more information at www.jimmyfund.org.
About Dave McGillivray Sports Enterprises
DMSE Sports is a full-service event-management organization, providing a full range of event and race production, management, and consulting services to support events of all sizes. Dave McGillivray and his team at DMSE Sports are responsible for the technical and logistical aspects of more than 30 races and walks per year. From overseeing organizing committees to working with local officials and handling registration, credentialing, lead vehicles, and course set up, DMSE Sports does it all. The firm has produced more than 1,000 events since opening its doors in 1981 and serves clients throughout the United States. Find more information at www.dmsesports.com.
# # #
Dave McGillivray Athlete|Entrepreneur|MotivationalSpeaker|Philanthropist|Accomplisher
Athletic Accomplishments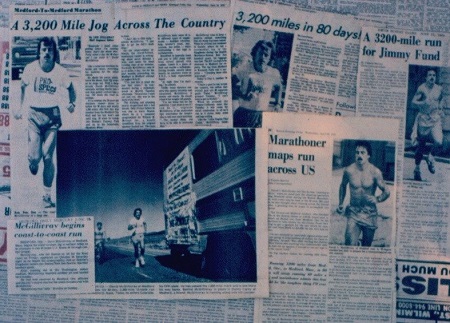 David McGillivray first gained national prominence in 1978 when he ran across the United States to raise money for the Jimmy Fund. Ran 3,452 miles from Medford, OR, to Medford, MA in 80 consecutive days, averaging 45 miles per day, to raise money for the Jimmy Fund, a charity which supports research towards eliminating cancer in children. This run ended in Fenway Park to a standing ovation by 32,000 fans. Since then, McGillivray has accomplished numerous other inspirational and charitable feats, as well as earned a reputation as one of the world's premier race directors.
In 1980, he entered the Hawaii Ironman Triathlon and finished 14th. He was the 30th person to have ever completed an Ironman. He completed the event again in 1983-1989 and in 2014 for a total of 9 times.
Also in 1980, McGillivray ran the East Coast —1,250 miles from Winter Haven, Florida, to Boston, joined by Bob Hall, a pioneer in wheelchair marathoning, to raise money for the Jimmy Fund. They met with President Carter at the White House during the trek through Washington, D.C.
In 1980 he ran 120 miles in 24 hours through 31 communities in southeastern MA for the "Run For Our Dreams Marathon." The run ended in Foxboro Stadium (now Gillette Stadium) at halftime of a New England Patriots game. The ultra marathon benefited the Wrentham State School for the Mentally Retarded; it raised more than $10,000 for the handicapped.
In 1981, he completed an ultra triathlon (ran, cycled and swam) of 1,522 miles throughout the six New England states, raising $55,000 for the Jimmy Fund. Unusual segments of the event included running up and down Mt. Washington in New Hampshire, swimming two miles across Lake Winnipesaukee, swimming 1-mile from Woods Hole, MA toward Martha's Vineyard, running three miles with inmates inside Walpole State Prison, and finishing in Foxboro Stadium in front of 60,000 people.
Officially completed his New England run by swimming more than seven miles from Martha's Vineyard to Falmouth, MA, again raising more money for the Jimmy Fund. McGillivray was greeted by thousands on shore including some of the world's greatest runners, including Alberto Salazar.
McGillivray ran the 1982 Boston Marathon in a time of 3:14 while completely blindfolded and while being escorted by two guides. He raised more than $10,000 for the Carroll Center for the Blind in Newton, MA.
In 1983, he swam for 24 consecutive hours in the Olympic-size Medford HS pool, swimming a total of 1,884 lengths and covering 26.27 miles (distance of the Boston Marathon) to raise money for the Jimmy Fund.
That same year, he raised money for a scholarship fun for his alma mater, Merrimack College, by bicycling more than 1,000 miles throughout six New England states in 14 days.
Again raising money for the Jimmy Fund, McGillivray biked for 24 consecutive hours around a five-mile loop course in Medford, MA while simultaneously directing the annual Bay State Triathlon, being held on the same course at the same time. He covered a total of 385 miles.
In 2004, McGillivray ran across the country again, this time with nine other veteran marathoners, in relay style, from San Francisco to Boston as part of TREK USA, an event he founded and raised more than $300,000 for five children's charities.
In 2018, he completed the World Marathon Challenge, running 7 marathons in 7 days on 7 continents.
He has run 155 marathons; 46 consecutive Boston Marathons (with 31 run at night after his race director duties are fulfilled)
Marathon personal best: 2:29:58
Ironman personal best: 10:36:42
McGillivray has run his birthday age each year since he was 12 years old.
Professional Accomplishments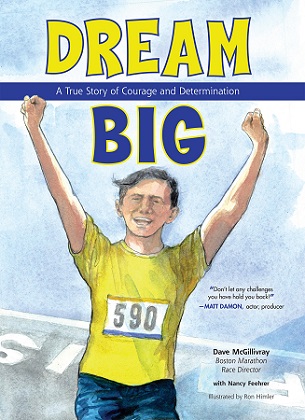 Since 1988, he has been the Technical and Race Director of the Boston Marathon. He manages and oversees all technical and operational aspects of the oldest and most prestigious marathon in the world.
2000 - Chosen Race Director of the Year by Road Race Management/Running Times Magazine
2000 - Lifetime Achievement Award by Competitor Magazine for more than 30 years of service to the sport of road racing and triathlons.
2003 – The DMSE Children's Fitness Foundation was established with a focus on funding nonprofit organizations that use running as a vehicle to promote physical fitness in children.
2005 – Inducted into Running USA's Hall of Champions.
2006 – Co-authored The Last Pick (Rodale Press) with Linda Glass Fechter. It chronicles his career while motivating and inspiring readers never to underestimate their own ability to set and achieve goals.
2007 – Named "Hero of Running" by Runner's World Magazine
2009 – Awarded the prestigious "Jimmy Award" from the Jimmy Fund of Boston for his 30-year association and his work with helping to raise money to fund cancer research at the Dana-Farber Cancer Institute
2011 – Inducted into the USA Triathlon Hall of Fame
2014 – Listed as #6 on Runner's World Magazine's "The 50 Most Influential People in Running"
2015 – Recipient of MarathonFoto/Road Race Management Lifetime Achievement Award
2017 – Inductee into the Road Runners Club of America Long Distance Running Hall of Fame, joined by Ryan Hall, Desiree Linden, and George Hirsch.
2018 – Co-authored Dream Big, with Nancy Feehrer, a children's illustrative book based on his first attempts at running the Boston Marathon.
McGillivray, DMSE Sports and his DMSE Children's Foundation have raised more than $50 million for various charities, including: The Jimmy Fund, Carroll Center for the Blind, Cystic Fibrosis, Lazarus House, Massachusetts Dietetic Association, Massachusetts Special Olympics, Mothers Against Drunk Drivers (MADD), Muscular Dystrophy Association, Sports Museum of New England, Wrentham State School.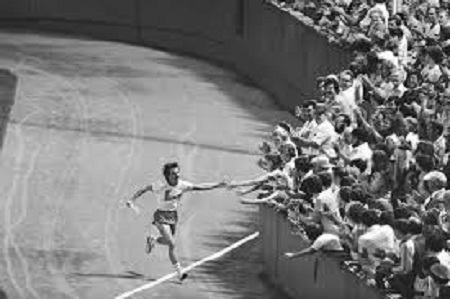 Photos
Top: Dave McGillivray in Fenway Park, 1978
2nd: Dave McGillivray on the road across America, 1978
3rd: Dave McGillivray greeted by Bill Rodgers outside Medford City Hall, 1978
4th: Dave McGillivray raising money for Team MR8
Bottom: Dave McGillivay with his Jimmy Fund "Heroes"
Left: Dave McGillivray greeted by fans inside Fenway Park, 1978

Here is more news and information about DMSE Sports.
NOTE: Wolfe News Wire is an online source for news and information about noteworthy companies and organizations. We invite you to share this content and/or leave a comment. Background info and past news items from a specific organization can be found by clicking the side logos. For more info, please email info@wolfenews.com. Thank you!
©2015 Wolfe Public Relations. All Rights Reserved.