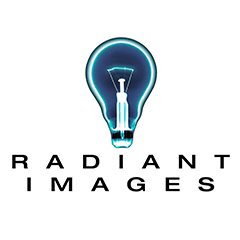 Radiant Images Provides Versatile 3D Rig with Twin F65 Cams for Upcoming 3D IMAX Documentary on Panama Canal
Radiant's Michael Mansouri and Nick Lantz to discuss Panama project at Giant Screen Cinema Association expo March 21 in Galveston, Texas
LOS ANGELES (March 18, 2013) – The talented film crew that recently finished shooting an IMAX 3D documentary about the Panama Canal utilized versatile 3D rigs provided by Radiant Images – featuring the CC3D Gen-2 rig and twin Sony F65 digital cameras – to capture some of the most challenging shots.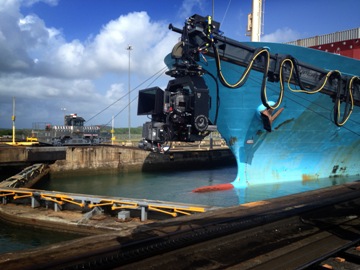 Even though Radiant Images customized the two 3D rigs with full-sized production cameras, they were light and well-balanced enough for Cinematographer Reed Smoot, ASC, to use them in a variety of ways during the Panama shoot, which wrapped in late February. The custom rigs were mounted on platforms in trees and on zip lines, hung in mid air, and placed on Steadicam, cranes and stabilized remote control heads.
Panama: A Land Divided, a World United 3D is scheduled to be released in 2014.
"We were able to think outside the box a little bit and come up with a solution that worked," said Nick Lantz, the Head of Technical Services and R&D at Radiant Images. "You don't always have the luxury of using a different rig for every set up. In this case, even with the difficulty in shooting in large format, we succeeded in creating a rig that did pretty much everything and could be quickly moved from one platform to another without compromising high quality."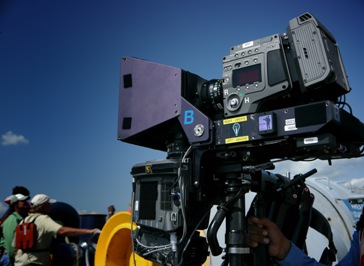 Radiant Images (www.radiantimages.com) worked closely on the project with Steadicam operator Scott Hoffman and Marty Mueller of Converging Concepts 3D, the designer and creator of the brainy CC3D Gen-2 rig.
(Marty Mueller, Radiant Images Co-Founder Michael Mansouri and Nick Lantz will join Panama Director Keith Melton for a panel discussion next week in Galveston, Texas at the GSCA's Film Expo and Digital Symposium. See details at bottom.)
In addition to the two 3D rigs with F65s, Radiant Images, an L.A.-based rental house and digital cinema innovator, also provided the lenses, gear and accessories to outfit a production that will be the first documentary about the Panama Canal in IMAX 3D.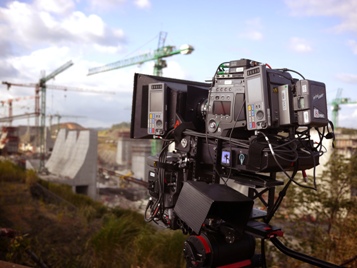 The Sony F65's captured crisp images in Sony RAW 4K to maximize the potential of the digital camera system and work more seamlessly with IMAX. The production was a huge undertaking as two movies – one in large format 3D and the other in 2D – were filmed simultaneously. Multiple cameras and camera systems were operated by three to four units each day. Smoot, well-known for his work in large format documentary filmmaking, shot with IMAX 15/70MM film.
Keith Melton, a large format and 3D pioneer, is directing the 3D film and Abner Benaim is directing the 2D film. Craig Hosking, one of Hollywood's top camera pilots with 150 feature film credits (Flight, Dark Knight Rises, Inception), coordinated the aerials.
The 48-mile Panama Canal, opened in 1914 connecting the Atlantic and Pacific oceans, is one of the great feats of engineering in the history of the world. In the early days, about 1,000 ships passed through each year, but today nearly 15,000 ships from around the world crowd the canal. The soon-to-be-completed $5.2 billion canal widening - the world's largest civil works project – is creating a new lane of traffic that doubles the canal's capacity and permits cargo ships of up to 1,200 feet – four football fields long.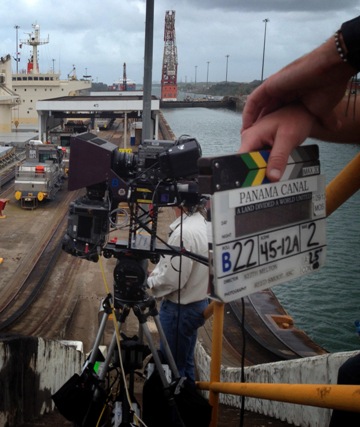 The documentary will capture the massive scale of the shipping vessels passing through the locks by matching the spectacle with the larger-than-life 3D IMAX format. Because the relatively-new Sony F65 offered the best image to convert to IMAX, Smoot (Justin Beiber: Never Say Never, Jonas Brothers: The 3D Concert Experience, Wild Ocean) enlisted the expertise of Radiant Images, who had created a stationary 3D rig using F65s for his recent IMAX documentary shot in Jerusalem. That film, Jerusalem 3D, is now in post-production and will premiere this fall.
In pre-production for the Panama project, Radiant technicians were able to troubleshoot and find workflow solutions for Smoot's team to make the F65 less intimidating during the shoot and in post.
But the most difficult pre-production challenge for Radiant involved creating a 3D rig with two full-size F65's that could be mounted on a Steadicam without weighing down Hoffman, enabling him to capture fluid and natural shots in Panama when a crane wasn't feasible.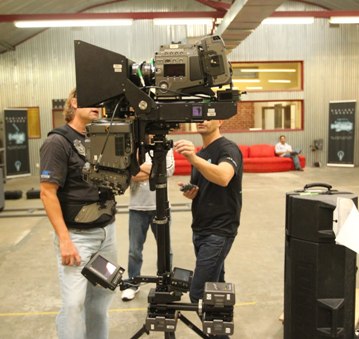 Nick Lantz and Hoffman spent weeks on the prep floor at Radiant's Los Angeles facility, painstakingly working on a solution. They chose to mount the F65's on Mueller's lightweight and revolutionary CC3D Gen-2 rig.
With Mueller's help, they went to work to make modifications to trim the size and weight. Hoffman wasn't expected to use the Steadicam for five-minute walk-and-talks or running up stairs, but he did need to be able to wear it comfortably to get the shots Smoot wanted.
Even a fraction of one pound would make a big difference. The twin F65s on the CC3D rig initially weighed in excess of 70 pounds – too heavy. Michael Mansouri, co-founder of Radiant Images, said his team shaved every ounce they could.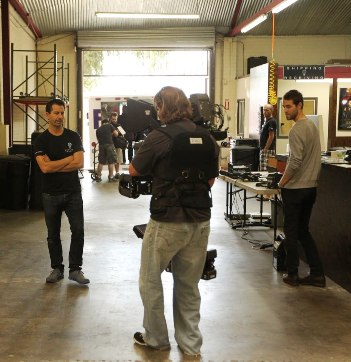 "We chiseled everything down to the bare minimum," Mansouri said. "When you are thinking in terms of ounces, when you have that kind of approach, it adds up. We were determined to make this system work for Scott."
By the time they were done, the rig weighed in at 59 pounds – nearly a 20 percent reduction.
Everything that could be removed without compromising function was stripped away. Existing cables were replaced with custom-made, ultra-slim, lightweight cables that were the exact length needed. Feather light brackets were made to replace heavier ones.
They also worked to redistribute weight of the modified 3D rig to create the right balance and stability. Once the twin F65's were placed in the CC3D rig, Lantz and Hoffman determined the cameras needed to be lowered by a half an inch to maintain the appropriate center of gravity and center of mass. They took their request to Mueller, who machined a new plate to bring the camera down ever so slightly.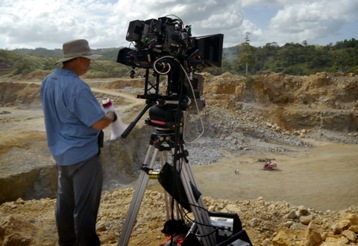 Once finished, Smoot was able to utilize the two completed 3D rigs in a variety of ways on the shoot, from stabilized heads to stationary shots, saving time without compromising quality or his artistic vision.
"I'm truly proud of our team at Radiant Images and the work they did and just as excited to be a part of this incredible 3D IMAX project," Mansouri said.
Mansouri and Lantz will share their experiences working on the Panama production next week when they join Mueller, Melton and others for a panel discussion, The Latest in Digital Capture: Capture Tools for the Giant Screen, at the Giant Screen Cinema Association's Film Expo and Digital Symposium in Galveston, Texas.
Radiant's twin F65 cameras on the CC3D rig will be on display and discussed at the Thursday, March 21 (8-10 a.m.) session, moderated by Daniel Ferguson, director of Jerusalem 3D. The presenters will provide the audience with a hands-on look at the latest digital capture tools used in films like Titans of the Ice Age, Mysteries of the Unseen World, Flight of the Butterflies, Jerusalem, and Panama: A Land Divided, a World United.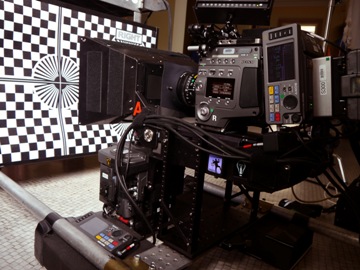 The panel discussion with filmmakers, vendors, and post-production supervisors on the application of the newest tools (featuring behind-the-scenes footage from giant screen films), will be followed by three concurrent workshops where participants get a first-hand look at the Sony F65 on CC3D rig, plus RED Epics on the 3ality and Screenplane 3D rigs and the Nikon D800-E cameras on the camBLOCK motion control system.
Mansouri and Lantz also will discuss key developments in the giant screen filmmaker toolkit, including new data wrangling solutions.
For more information about Radiant Images, visit online at www.radiantimages.com or call 323-737-1314. Find Radiant Images on Facebook and Twitter.
# # #
Images from custom F65 3D rig in action in Panama, and of Steadicam Operator Scott Hoffman and Radiant's Nick Lantz prepping rig in pre-production at Radiant Images in Los Angeles.
PANAMA : The Land Divided The WORLD UNITED from Gordon Bijelonic on Vimeo.
Here is more information about Radiant Images.
NOTE: Wolfe News Wire is an online source for news and information about noteworthy companies and organizations. We invite you to share this content and/or leave a comment. Background info and past news items from a specific organization can be found by clicking the side logos. For more info, please email info@wolfenews.com. Thank you!
©2015 Wolfe Public Relations. All Rights Reserved.