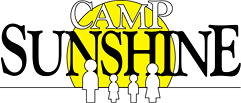 Camp Sunshine Pumpkin Festival Raises $100,000 for National Retreat for Sick Children and Their Families
New Maine record set for lit jack-o-lanterns in one place, leaving event organizers aglow
Camp Sunshine raised more than $100,000 and also set a new record for Maine for the most lit jack-o-lanterns in one place with a whopping 22,481 at its pumpkin festival last weekend in Cumberland.
The previous Maine mark was 15,001 carved pumpkins set in 2003 at a Camp Sunshine event in Portland. Camp Sunshine also holds the Guinness World Record of 30,128 lit jack-o-lanterns, set in Boston in 2006.
"In the end, it's not about records, it's about raising funds and awareness for Camp Sunshine and helping families get through rough times," said Matt Hoidal, executive director of Camp Sunshine.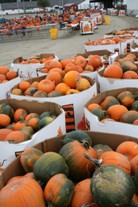 Casco, Maine-based Camp Sunshine is a national retreat for children with life threatening illnesses and their families. The camp offers one of the only programs in the nation whose mission is to address the impact of a life-threatening illness on every member of the immediate family. While attending the various week-long camps free of charge, families are able to rebuild relationships together and meet other families facing similar challenges.
The funds will be used to offer the invaluable program to even more families across Maine and throughout the country.
Camp Sunshine will hold similar fundraising pumpkin festivals in Boston (Oct. 18) and New York City (Oct. 25) in coming weeks.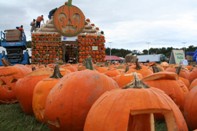 An estimated 20,000 people attended last Saturday's Camp Sunshine Pumpkin Festival at the Cumberland Fairgrounds, which included live music, magic shows, a costume parade, whoopie pie-eating contest, face painting, food and pumpkin carving. Lots of pumpkin carving.
An army of volunteers, young and old from across Maine, gutted, carved, crated, arranged and lit pumpkins throughout the day and into the evening. Truckloads of carved pumpkins also arrived, with Wal-Mart, UPS and Downeast Energy contributing hundreds and hundreds from carving events.
Maine schoolchildren also got into the act. Students at Windham High School carved more than 2,000 pumpkins. Children at the James W. Russell Elementary School in Gray contributed 500 or so, while Albion Elementary School and Fairfield Primary School in Central Maine pitched in with several hundred as well. Students at the Chebeague Island School delivered a pumpkin they had planted, tended and harvested specially for the event.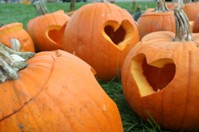 Attendees also donated $10 each for about 2,200 'Glow Heart Pumpkins' to honor loved ones battling life-threatening illnesses or in their memory. Volunteers carved a special "glow heart" in the pumpkins and displayed them in the giant pumpkin towers.
The final pumpkin count was tallied and confirmed by the South Portland accounting firm Macdonald Page & Co. BBI Waste hauled the carved pumpkins to Pineland Farms in New Gloucester to be composted.
Hoidal credited the hundreds of volunteers for making the event a success. "You can't say enough about what they accomplished," he said. "It's messy and tiring work but everyone was in good spirits."
Hancock Lumber, a sixth generation family owned business established in Maine in 1848, served as the lead sponsor of the event. Boston Ladder and Scaffolding built a 40-foot-tall scaffolding tower, and Meyer Development and Perspective Construction Management built an impressive jack-o-lantern house.
Camp Sunshine is a year-round retreat in Maine's Sebago Lake region that provides respite, support, joy and hope to children with life-threatening illnesses and their immediate families through various stages of a child's illness. The week-long program is free of charge to all families, and includes 24-hour onsite medical and psychosocial support. Bereavement groups also are offered for families who have lost a child to an illness. For more information on Camp Sunshine, please visit
www.campsunshine.org
.
# # #
NOTE: Wolfe News Wire is an online source for news and information about noteworthy companies and organizations. We invite you to share this content and/or leave a comment. Background info and past news items from a specific organization can be found by clicking the side logos. For more info, please email info@wolfenews.com. Thank you!
©2015 Wolfe Public Relations. All Rights Reserved.