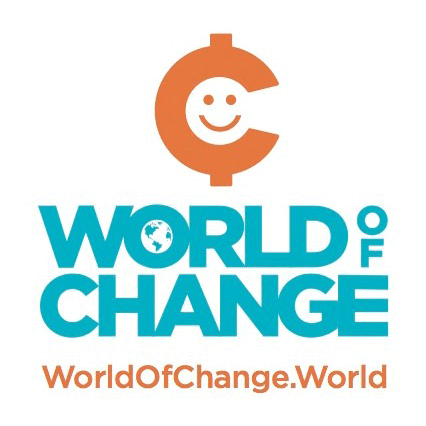 Final Tally Shows World of Change Set Maine Record at ChangeFest, Resulting in More Than $52,000 in Impact Investments to be Made
The nearly two tons of change displayed outside L.L.Bean in Freeport totaled $32,099.84 - including $6,567.79 in spare change donated at Saturday's event to help children and families in need
FREEPORT, Maine (October 30, 2017) – With the final tally in, World of Change's first-ever ChangeFest added up to a rousing success: the nearly two tons of change on display on Saturday at L.L.Bean in Freeport totaled $32,099.84 – including $6,567.79 in spare change donated at the public event to help children and families in need.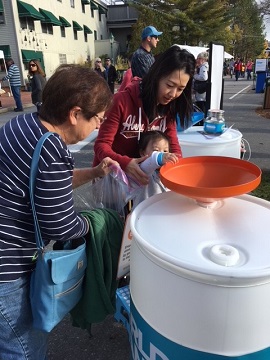 Together with matching challenges and other contributions, World of Change™, a new Maine-based nonprofit organization that converts spare change into social change, will be making more than $52,000 in impact investments to its nonprofit partners in its first eight months since publicly launching in March.
"This generous support is a result of people of all ages recognizing the power of small change, and illustrates the multiplier effect when we all join together," said Matt Hoidal of Falmouth, World of Change founder and Chief Change Maker. "Each coin is more valuable together with others than it is by itself."
The inaugural ChangeFest™ marked a final push in World of Change's pursuit of a world record for coins collected for charity. And while the world record set by Portugal in 1998 was not surpassed, a Maine record was set, Hoidal said.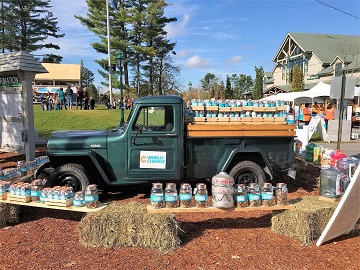 Saturday's event included an impressive display of the spare change collected by kids at summer camps, school and community groups over the summer and fall, and by adults at several Maine businesses that conducted change drives. Plus, six collection barrels were available for attendees to donate loose change to the cause of their choice for World of Change's six different areas of support: housing, food security, education, financial literacy, health and wellness, and children's play.
Attendees dropped $6,567.79 in coins into those barrels throughout the day, kicked off by a Freeport man who emptied a bandana filled with change into one of the collection barrels before the event even began, telling Hoidal that he had read about the event in the newspaper that morning and decided it would be a good way to make use of his change.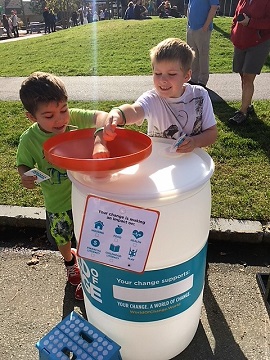 Throughout the day, countless others arrived at L.L.Bean's Discovery Park with baggies of change and coin jars, keeping volunteer counters from Baker Newman Noyes busy running coins through counting machines donated by Bangor Savings Bank and Gorham Savings Bank. One woman who recently moved out of her house found a jar of pennies in her basement that she guessed had been there more than 30 years. When she heard about ChangeFest, she told Hoidal that she figured it would be the perfect way to make good use of her find.
Later in the day, L.L.Bean's Bootmobile arrived from Bangor, bringing change collected by participants at World of Change's satellite event earlier that day at L.L.Bean's outlet store.
While festivalgoers were choosing which barrels to dump their change into, kids from Maine Academy of Modern Music performed on stage, while young performers from Circus Maine dazzled the crowds.
"The talent and dedication displayed by both groups gives us all great hope for a bright future," Hoidal said. "Likewise, the enthusiasm displayed by students and kids from summer camps show us our simple concept works as an accessible and empowering way for kids and adults alike to learn about and make change." Falmouth Elementary School and nine Maine Camp Experience member camps led the way among both groups.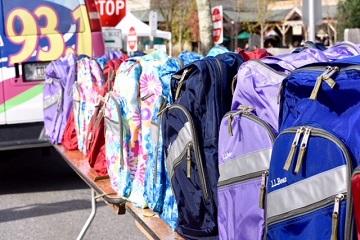 Dozens of volunteers from Waynflete School, Green Clean Maine, Gorham Savings Bank, News Center's WCSH6 and WLBZ2, Baker Newman Noyes, Coast 93.1, and other unaffiliated individuals rallied together at the event as well, he said.
In addition, seven nonprofit partners were present at the event to promote their good work and offer onsite volunteer projects for festivalgoers. For example, Maine Locker Project and Good Shepherd Food Bank collaborated with the public to fill 100 L.L.Bean-donated backpacks with food, which will be distributed to kids in need.
Also, Furniture Friends brought materials so participants could assemble bookcases and end tables. Maine College Circle, YMCA of Southern Maine, Boys & Girls Clubs of Kennebec Valley and Southern Maine, and Junior Achievement of Maine also engaged volunteers onsite. In Bangor, volunteers from WLBZ2 News Center stuffed 50 L.L.Bean-donated backpacks with food for Bangor Area Homeless Shelter's food pantry.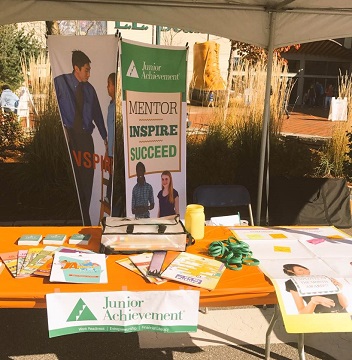 The hundreds of thousands of coins in jars and jugs were displayed on and around World of Change's Change Truck, a classic 1948 Willys Jeep truck sponsored by Hancock Lumber.
"Just think how many of the coins were likely as old or older than the Change Truck," Hoidal said. "Imagine the millions or billions of hands these coins have passed through over time, and how many hearts directed this change to make a World of Change. And change they will make."
With its focus on youth and families, World of Change is committed to investing in opportunities that give kids the support needed for fulfilling lives. Launched this past March – and with its first ChangeFest now complete - the nonprofit will soon make its first round of impact investments.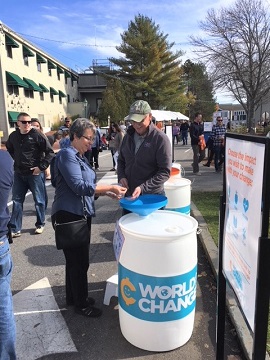 Hoidal said the coins will next be converted to cash with 100 percent of the funds raised so far – a total of more than $52,000 including matching and in-kind donations - distributed to its nonprofit partners.
World of Change's nonprofit partners are: Central Asia Institute, Y of Southern Maine, Maine College Circle, Junior Achievement of Maine, Good Shepherd Food Bank, Maine Locker Project, Students Against Destructive Decisions, Jen's Friends Cancer Foundation, Maine Children's Cancer Program, Bet Elazraki Children's Home, Furniture Friends, Comfort Cases, Circus Maine and Boys and Girls Clubs of Maine.
Examples of the areas of support and impact include:
Scholarships for at least four girls to attend school for a year in Central Asia, in partnership with Central Asia Institute and an anonymous matching donor.
60 beds so that kids and their family members don't have to sleep on the floor, in partnership with Furniture Friends, with a match from Hands On Tzedakah.
Camperships, swim lessons and after school programs, in partnership with the YMCA of Southern Maine.
Music lessons and scholarships, in partnership with Maine Academy of Modern Music.
Circus Maine scholarships.
Renovation of an entire room in a foster home in Israel, with a match from Hands On Tzedakah.
Comfort Cases filled with essentials for foster kids so they don't have to show up with their belongings in black plastic trash bags.
More than 10,000 meals for kids and families through Good Shepherd Food Bank.
At least seven scholarships and one College Aspirations Workshop, in partnership with Maine College Circle.
Sponsorship of Junior Achievement programming in at least 1-2 classrooms.
100 L.L.Bean donated backpacks filled with food for kids, in partnership with Maine Locker Project, plus unrestricted funding for programming and more backpacks.
At least one scholarship for a student to attend a national teen conference, in partnership with Students Against Destructive Decisions.
Boys and Girls Club memberships, in partnership with Boys & Girls Clubs of Kennebec Valley and Southern Maine.
Funding for groceries for families impacted by cancer, in partnership with Jen's Friends Cancer Foundation.
Unrestricted funding for Maine Children's Cancer Program.
Funding for Habitat for Humanity, to assist with disaster relief.
Sponsorship of a night of family entertainment at Camp Sunshine, a retreat for children with life-threatening illnesses and their families.
50 L.L.Bean donated backpacks filled with food for kids, in partnership with Bangor Area Homeless Shelter, plus additional funding for food.
Find more information at www.worldofchange.world or on Facebook, and contact World of Change at info@worldofchange.world or (207) 400-0274. Individual World of Change donations are welcome, while many opportunities exist for individuals or corporations to make a World of Change matching challenge.
# # #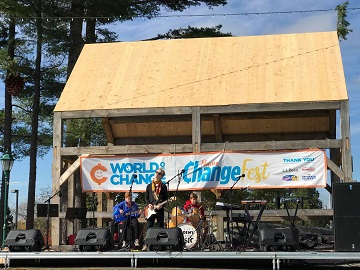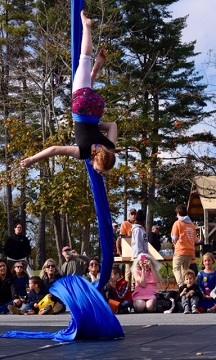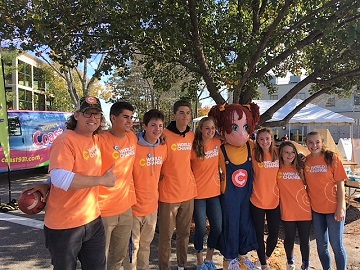 Here is more news and information about World of Change.
NOTE: Wolfe News Wire is an online source for news and information about noteworthy companies and organizations. We invite you to share this content and/or leave a comment. Background info and past news items from a specific organization can be found by clicking the side logos. For more info, please email info@wolfenews.com. Thank you!
©2015 Wolfe Public Relations. All Rights Reserved.