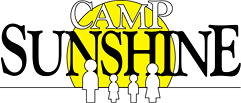 For Immediate Release
September 25, 2012

Contact:
Michael Smith, Director of Special Events, Camp Sunshine
(207) 655-3800
E-mail: msmith@campsunshine.org

Mark Richard, Event Chair, Keller Williams Realty
(207) 553-2445

Web Site: http://www.CampSunshine.org

First-ever Maine Suitcase Party Raises $60,000 for Camp Sunshine, Provides Dream NYC Weekend for Three Mainers and Their Guests
500 partygoers attend unusual fundraiser at Maine Aviation hangar and watch lucky winners fly away in corporate jet
PORTLAND, Maine (September 25, 2012) – The first-ever Maine Suitcase Party raised $60,000 for Camp Sunshine while providing three Mainers and their guests with a dream weekend in New York City via private jet, organizers announced Wednesday.
More than 500 partygoers attended the Sept. 21 fundraiser in a spruced-up Maine Aviation Corporation maintenance hangar at the Portland International Jetport, looking on as the lucky grand-prize winners boarded a corporate jet for a swanky weekend getaway in The Big Apple.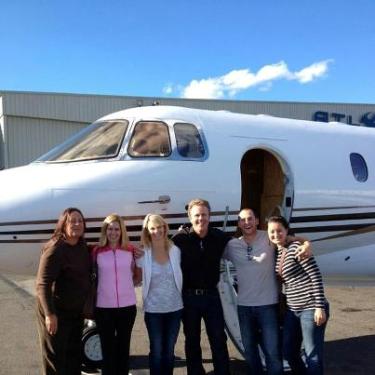 Drawing winners were Calvin Hunter of Auburn joined by his wife Carley Kjeretzian and Wendy McKenzie of Warren joined by her sister Deborah McKenzie of Gorham. In addition, Tim and Sonja Devine of Portland were the high bidders in a live auction for the final two seats.
Arriving in New York City on Friday night after a 50-minute flight, the winners were chauffeured by LimoLink to The Blakely Hotel in Manhattan, where they spent two nights in New York City with $500 in spending money. They returned to the Portland International Jetport on Sunday evening aboard the same Hawker 1000 luxury jet provided by Maine Aviation along with the crew.
All partygoers arrived at the event with packed suitcases, ready to board the plane for the weekend if their name was drawn. The "suitcase party" fundraiser, similar to a handful of others held in other parts of the country, was the first ever to take place in the Eastern U.S.
"This event was like no other and has created an excitement that already is launching next year's event," said Mark Richard of Keller Williams Realty Portland, the event sponsor. "Keller Williams Realty is so grateful to all the sponsors and guests that made the Maine Suitcase Party a huge success."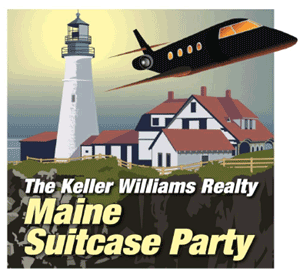 The beneficiary, Camp Sunshine (www.campsunshine.org), is a one-of-a-kind national retreat in Casco, Maine that provides a welcome respite for children and their families coping with such life-threatening illnesses such as cancer, kidney disease and lupus.
"Camp Sunshine couldn't be more appreciative of the effort put forth by Keller Williams and its ability to bring this event to fruition," said Michael Smith, Camp Sunshine's Director of Special Events. "As the first of its kind east of the Mississippi River, this event took a lot of planning and commitment on behalf of the entire Keller Williams team. Because of their unwavering support, more than 30 families from across the nation will enjoy the magic of Camp Sunshine next summer."
Smith also noted the efforts of Maine Aviation Corporation. "Without a venue, plane, and pilots this spectacular night could have never happened," he said. "We cannot begin to give high enough praise to Maine Aviation, their ownership and management team for creating a dream come true experience for these three couples."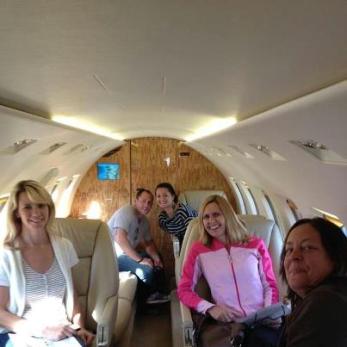 In addition to the grand prize drawing, two other winners were selected and boarded limousines for two-night getaways to a pair of luxury Maine resorts – the Migis Lodge on Sebago Lake and Black Point Inn on Prout's Neck.
Guests arrived at the Maine Suitcase Party via the red carpet with their entrances shown on a video screen inside the hangar. The event featured cocktails, dancing, live music from Motor Booty Affair, light appetizers and a silent auction for trips and other items.
Residential Mortgage Services, Inc. (RMS) served as a lead corporate sponsor of the event.
"We are thrilled to have been able to support an event that will have such a positive impact on so many people's lives" said RMS's President/CEO James Seely. "As the leading provider of residential mortgages in the State of Maine, RMS is fortunate to be able to help Mainers fulfill their dreams of home ownership every day. Supporting this event and the wonderful opportunities Camp Sunshine creates for families to enjoy time together in the beautiful State of Maine is consistent with RMS's commitment to giving back to the communities where our clients and our employees live and work."
Located along Maine's Sebago Lake, Camp Sunshine has offered recreational, medical and counseling services at no cost to more than 32,000 people from diverse cultural and economic backgrounds since 1984.
About Keller Williams Realty Portland
Keller Williams Realty Portland, a company owned by Maine real estate agents, has operated a Market Center in Portland since 2003. The company has more than 240 professionals presently serving clients throughout southern and central Maine. The Portland-based company has been recognized for years as one of Keller Williams Realty International's top performing franchises, and in 2012 it was recognized as the franchise's number one performer in the world.
Keller Williams Realty, Inc. is an Austin, Texas-based, real estate franchise company with more than 80,000 real estate agents, operating in approximately 690 market centers (offices) across the United States and Canada. Keller Williams Realty is currently the second-largest residential real estate company in the United States. For more information, visit www.kw.com or call 207.553.2445.
About Camp Sunshine
Camp Sunshine offers children with life-threatening illnesses and their families a place to relax together for a week, and to take a break from the extraordinary demands placed upon them on a daily basis. The year-round program is free of charge and staffed almost entirely by volunteers. It is the only program in the nation whose mission is to address the impact of a life-threatening illness on every member of the immediate family — the ill child, the parents and the siblings. Since its inception in 1984, Camp Sunshine has provided a haven for more than 32,000 individuals from diverse cultural backgrounds. In addition to providing 24-hour on-site medical and psychosocial support, the camp offers a variety of daily activities, including swimming, boating, archery and soccer, and special events such as bonfires and cookouts. To support Camp Sunshine, call (207) 655-3800 or visit www.campsunshine.org.
# # #
Top Photo – cutline info:
Grand-prize winners and their guests from the first-ever Maine Suitcase Party in Portland outside Maine Aviation's Hawker 1000 private jet, which transported them to and from NYC for a swanky weekend. From left, Deborah McKenzie of Gorham with sister Wendy McKenzie of Warren, Sonja and Tim Devine of Portland and Calvin Hunter and Carley Kjeretzian of Auburn.
Here is more information about Camp Sunshine
NOTE: Wolfe News Wire is an online source for news and information about noteworthy companies and organizations. We invite you to share this content and/or leave a comment. Background info and past news items from a specific organization can be found by clicking the side logos. For more info, please email info@wolfenews.com. Thank you!
©2015 Wolfe Public Relations. All Rights Reserved.