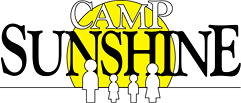 Fundraising Participants Bracing for Frigid Ocean Plunge at Long Island Polar Dip on Sunday at Crab Meadow Beach in Northport
Freezin' for a Reason event to help send more N.Y. families to Camp Sunshine, a one-of-a-kind retreat in Maine for children with life-threatening illnesses and their families
NORTHPORT, N.Y. (February 23, 2015) – Participants in Sunday's Long Island Polar Dip will plunge into frigid Long Island Sound to raise money to send more New York families to Camp Sunshine.
The March 1 fundraising event will test the mettle of the polar plungers at Crab Meadow Beach, located at the end of Waterside Avenue in Northport on Long Island's North Shore. Registration gets underway at 11 a.m. with the dip set for 1 p.m.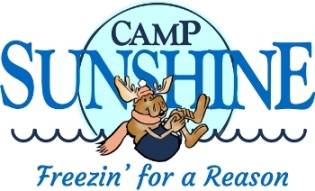 Camp Sunshine is a one-of-a-kind national retreat in Casco for children with life-threatening illnesses and their families. The Long Island Polar Dip partners with TeamRaiser, a popular online fundraising platform, to make it easier to participate. To donate online, form or join a team, visit http://www.freezinforareason.com. For more information, call (207) 655-3800.
Organizers have set a goal to raise $20,000 – enough to send 10 New York families to Camp Sunshine (www.campsunshine.org). Each participant who raises at least $100 in pledges for Camp Sunshine will receive an "I DID IT!" t-shirt.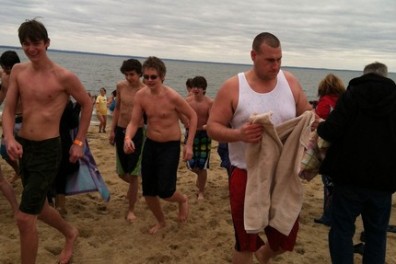 "The reality of this event is that the discomfort our plungers feel for just a moment will never compare to what our families go through during the course of their child's illness," said Michael Smith, Camp Sunshine's Director of Special Events. "We call it Freezin' for a Reason."
Nestled alongside the shores of beautiful Sebago Lake in Casco, Maine, Camp Sunshine (www.campsunshine.org) offers children with life-threatening illnesses and their families a place to relax together for a week and to take a break from the extraordinary demands placed on them on a daily basis.
The year-round program is free of charge and each session is staffed with the assistance of 80 volunteers. It is the only program in the nation whose mission is to address the impact of a life-threatening illness on every member of the immediate family.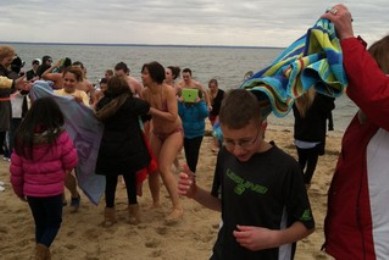 Since the opening of the Camp's year-round campus in 2001, more ill children and their families have come from New York than any other state in the nation. In 2013, 152 families from New York, many from Long Island, attended the Camp. Even with multiple sessions being added annually at Camp Sunshine, there are still many more children from New York being newly diagnosed each year, Smith said.
Camp Sunshine's program continues to be recommended by the following New York treatment centers: Mount Sinai Medical Center, Columbia Presbyterian Medical Center, Schneider's Children's Hospital, Children's Hospital at Montefiore, Memorial Sloan Kettering Cancer Center, New York University Medical Center, Brooklyn Hospital Center, Westchester Medical Center, Stony Brook Medical Center, and numerous others.
About Camp Sunshine
Camp Sunshine is a year-round retreat, which provides respite, support, joy, and hope to children with life-threatening illnesses and their families through various stages of a child's illness. The program is free of charge to all families, and includes 24-hour on-site medical and psychosocial support. Bereavement groups are also offered for families who have lost a child to an illness. To support Camp Sunshine, call (207) 655-3800 or visit www.campsunshine.org.
# # #
Photos from 2013 event by Lisa Gellatly Yannes of the Times Beacon Record
Here is more news and information about Camp Sunshine
NOTE: Wolfe News Wire is an online source for news and information about noteworthy companies and organizations. We invite you to share this content and/or leave a comment. Background info and past news items from a specific organization can be found by clicking the side logos. For more info, please email info@wolfenews.com. Thank you!
©2015 Wolfe Public Relations. All Rights Reserved.