Gould Academy's Capital Campaign Exceeds Goal
'The Campaign for Gould Academy's Future' raises $17.1 million - $1.3 million more than stated goal and three months ahead of schedule
Gould Academy's first-ever capital fundraising effort achieved a level of $17.1 million - $1.3 million more than the stated goal and three months ahead of the scheduled completion, school officials announced today.
Gould launched the campaign, called The Campaign for Gould Academy's Future, in September 1998 when it dedicated Ordway Hall, a new dining facility that accommodates 350 diners. At that time, the total raised stood at $9.4 million. Since then, Gould has raised an additional $7.7 million.
The contributions allowed Gould to fund a number of improvements at the 166-year-old private boarding and day school, such as a $3.3 million renovation of Gehring Hall, the 75-year-old girls' dormitory. Other projects included remodeling a stately old faculty house into the Carolyn Wight House, which became the new admissions office; and building the McLaughlin Science Center, a 22,000-square-foot, state-of-the-art science facility that is a centerpiece for science education at the secondary level in Maine and across New England. The science center was dedicated in September. Also, as a result of the campaign's success, Gould was able to add significant gifts to its endowment.
"The Gould family has shown its true colors during this campaign," said Head of School Dan Kunkle. "The needs of this school were real, and the commitment to see our goals achieved galvanized a generous Board of Trustees and motivated hundreds of individual donors and a significant handful of foundations to bring us where we are today. This truly is a small school with a huge heart."
In addition to the new construction projects, The Campaign for Gould Academy's Future raised more than $2 million in annual fund gifts over five years, and allowed Gould to replace an aging field house roof and rebuild an old athletic field. Gould now boasts four regulation-sized playing fields on campus.
Founded in 1836, Gould Academy provides a traditional and innovative college preparatory education to about 230 students in grades 9-12. Nearly half the students are from Maine, another 15 percent from throughout New England, and the remaining from other parts of the U.S, Europe and Asia. Long known for its competitive skiing and innovative arts, computer technology, and experiential programs, Gould's mission is to inspire young men and women to achieve high standards in their academic, artistic, and athletic pursuits; to demonstrate responsibility to the community; and to explore the natural world. For more information on Gould, go to www.gouldacademy.org.
# # #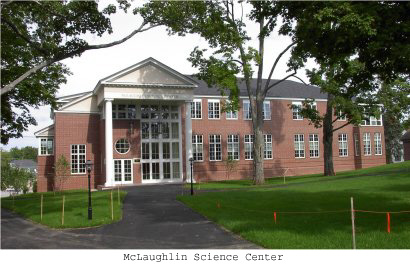 NOTE: Wolfe News Wire is an online source for news and information about noteworthy companies and organizations. We invite you to share this content and/or leave a comment. Background info and past news items from a specific organization can be found by clicking the side logos. For more info, please email info@wolfenews.com. Thank you!
©2015 Wolfe Public Relations. All Rights Reserved.