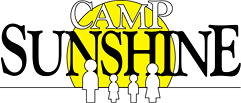 MEDIA ADVISORY: Camp Sunshine to Receive $400,000 from Tropical Smoothie Cafe at Event Tuesday in Casco
Money to support Camp Sunshine's mission of assisting families of children facing life-threatening illnesses
WHAT:
Representatives from Tropical Smoothie Cafe will be presenting
Camp Sunshine
with a check for $400,000. The national sandwich and smoothie chain raised the funds during its Fifth Annual Flip Flop Day, which took place in June at each of the more than 300 Tropical Smoothie Cafe locations across the country. The funds will be used to support Camp Sunshine's mission of assisting families of children facing life-threatening illnesses. August 7-12 has been designated Tropical Smoothie Café Week at Camp Sunshine, and company employees will be volunteering at the camp all week. Funds will also be used to sponsor families during Camp's many other sessions throughout the year. The money raised this year brings the total amount donated to Camp Sunshine by
Tropical Smoothie Cafe
to $1.1 million dollars.
WHEN:
Tuesday, August 9, 2010, 1 p.m.
WHERE:
Camp Sunshine, 35 Acadia Road, Casco, Maine
WHO:
Matthew M. Hoidal, Esq., executive director, Camp Sunshine
Tropical Smoothie Café franchisees and executives
Camp Sunshine campers, families, staff and volunteers
MEDIA CONTACT:
Matthew M. Hoidal, Esq., Camp Sunshine Executive Director, (207) 655-3800
mhoidal@campsunshine.org
About Camp Sunshine
Camp Sunshine offers
children with life-threatening illnesses and their families
a place to relax together for a week, and to take a break from the extraordinary demands placed upon them on a daily basis. The year-round program is free of charge and staffed almost entirely by volunteers. It is the only program in the nation whose mission is to address the impact of a life-threatening illness on every member of the immediate family — the ill child, the parents and the siblings. Since its inception in 1984, Camp Sunshine has provided a haven for more than 35,000 individuals from diverse cultural backgrounds. In addition to providing 24-hour on-site medical and psychosocial support, the camp offers a variety of daily activities, including swimming, boating, archery and soccer, and special events such as bonfires and cookouts. To support Camp Sunshine, please call (207) 655-3800 or visit
www.campsunshine.org
.
# # #
NOTE: Wolfe News Wire is an online source for news and information about noteworthy companies and organizations. We invite you to share this content and/or leave a comment. Background info and past news items from a specific organization can be found by clicking the side logos. For more info, please email info@wolfenews.com. Thank you!
©2015 Wolfe Public Relations. All Rights Reserved.