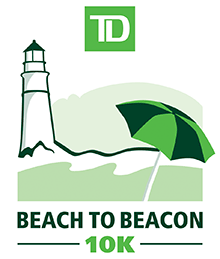 PRESS KIT: Story Ideas for Media re: 2017 TD Beach to Beacon 10K Road Race
Story Ideas for Media
(updated July 28 - note elite field changes)
Topics:
Race Beneficiary Promotes Fitness, Healthy Eating in Kids Race Organizers Make 20th Running Special B2B High School Mile Returns after Successful Debut Gameface is Back with Free Photos for All Runners Wheelchair Race Most Competitive Ever Host Families Welcome World TD Beach to Beacon Earns Evergreen Status for Sustainability Efforts iResultsLive Display Feature Expands for Runners TD Bank Among Corporate Partners who Fuel the Race Photo Op at Bib Pickup Aug. 4-5 - B2B Expo Race Director Dave McGillivray Legendary Runner: Joan Benoit Samuelson American Prize Purse Back to Sweeten Pot to Top U.S. Distance Runners Showcase Event for Maine Runners Runner Health Topics at Sports Medicine Symposium Aug. 4 Volunteer Effort Friday at the Fort Focused on Youth Past Beneficiaries Enjoy Gift that Keeps Giving TD Beach to Beacon Brings out the Best
A program of The Barbara Bush Children's Hospital at Maine Medical Center, Let's Go! is focused on increasing physical activity and healthy eating for children from birth to age 18. Let's Go! receives a $30,000 donation from the TD Charitable Foundation, the charitable giving arm of TD Bank, America's Most Convenient Bank®. TD Bank has now donated $600,000 to Maine charities over the history of the race.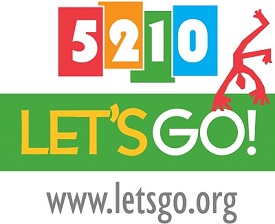 Let's Go! collaborates with schools, child care and out-of-school programs, healthcare practices and community organizations in Maine and New Hampshire to reach children and their families wherever they live, learn, work, and play. Let's Go! reaches more than 220,000 children, using the 5-2-1-0 healthy habits message – 5 or more fruits and vegetables each day, 2 hours or less of screen time, 1 hour or more of physical activity, and 0 sugary drinks.
According to Caitlin Loveitt of Let's Go, "This opportunity with B2B comes at the perfect time as we're focusing efforts on increasing physical activity among Maine's youth. The state (MIYHS) measures behaviors associated with our 5-2-1-0 message and the only one of the 4 that's moving in the wrong direction is the number 1 – one hour of physical activity – so we've made a commitment to concentrating on this through our work with school districts, afterschool programs and doctor's offices. We're partnering with leaders at these locations to generate awareness, change policy, and ultimately offer more time for movement."
She continued, "A good example of this would be to increase activity in schools as studies show that kids who move more are better learners – movement can aid in education. Children don't need to be sitting through an hour-long math class, we help teachers incorporate brain breaks and encourage them to let kids move! "
Shunk Child Care in Portland follows Let's Go! program, owners will run TDB2B
Sasha Shunk, who owns Shunk Child Care in Portland , provides a healthy environment for the kids in her care. She's been a 5-2-1-0 site for six years and has earned GOLD level recognition for the past five years. She organizes a running club for the little ones and rewards the kids with non-food rewards for reaching a mile.
Sasha and her husband James both run the TDB2B. He was volunteering at the race years ago and became inspired when he saw runners receiving medals (medals are awarded every five years). He's been running the race ever since and this year, for the special 20th running, he will earn a medal.
Mackinna Campbell and her friend Gwen of Westbrook
Mackinna is 12-year-old girl who is running this year's race with her parents and good friend Gwen, also age 12. The two just finished 6th grade at Westbrook Middle School – a school whose cafeteria takes part in the Let's Go! Program. The two girls are training together in addition to starting a summer track program. Both of Mackinna's parents, Christine and Mark, will also run the TD Beach to Beacon. This family of eight is very active and also eats a healthful diet. Mackinna's pediatrician even takes part in the Let's Go program, so it's a Let's Go family affair.
These girls and their families get the 5-2-1-0 message and understand the importance of being active each day, and MacKinna's parents have served as healthy living role models, raising their children with the same values as the Let's Go program.
Media contact: To do a story on the organization in your region (or above suggestions), contact Caitlin Loveitt at Let's Go! (207) 662-3825, cloveitt@mmc.org or Beryl Wolfe at Wolfe PR beryl@wolfenews.com. And for more information, visit www.letsgo.org and find Let's Go! on Facebook. For a copy of this year's news release on the organization, with more background, see: http://www.wolfenews.com/releases/Lets-Go-Chosen-as-Beneficiary-of-2017-TD-Beach-to-Beacon-10K-Road-Race/04061/
Race Organizers Make 20th Running Special
The 20th running of the TD Beach to Beacon this year provides a perfect opportunity to look back over the history of the race, how it came to be, the growth and changes over the years, etc. Also, to celebrate the special race on Aug. 5, several events, changes and enhancements have been added to what already is in place for runners, volunteers, OC members and spectators. Here are some highlights: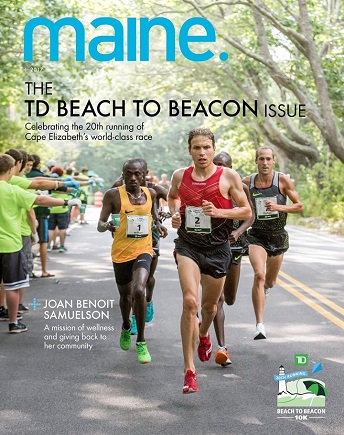 New race logo for the 20th running
For the first time, all race-sanctioned events, parties and activities will be held at Fort Williams.
Shipyard Brewing Co. has created a limited-edition TD Beach to Beacon can – now in stores - for its popular Export Ale to celebrate the 20th running.
Maine Magazine has partnered with the race to produce a special full-length edition devoted to the 20th TDB2B. All registered runners and OC members will receive a free copy.
Registered runners receive a keepsake poster of MECA student Kirk Simpson's winning design celebrating the 20th running.
Race Founder and Olympic gold medalist Joan Benoit Samuelson will join the field for only the fourth time in race history.
For the first time in race history, tech shirts provided to registered runners by Nike will be a color other than white.
Runners along the course will enjoy an enhanced music experience, including more music stations and pulsating energy.
All finishers will receive a medal made of metal and featuring translucent effects evoking the elements of sea glass, plus a key chain attachment
Each legacy runner will receive a hat from Nike embossed with the race logo
All volunteers and Organizing Committee (OC) members will receive a lapel pin with a similar design to the finisher medal
T-shirts for the 20th Kids Fun Run were designed by a third-grader Lucy Shaw as part of a design contest at Pond Cove School in Cape Elizabeth
Contact: Marji Adams (a legacy runner) chairs the 20th Running Committee for the race's Organizing Committee. She can be reached at marji.a.adams@gmail.com. Also, please view the new 20th Celebration page on the race website: http://www.beach2beacon.org/20th-celebration
B2B High School Returns After Successful Debut
The TD Beach to Beacon High School Mile, presented by Oakhurst Dairy, is returning this year after a debut in 2016 that exceeded all expectations. Hundreds of spectators showed up last year to witness a pre-race mini-torch ceremony, formal runner introductions, two spectacular races and an elaborate award's ceremony. Expect more of the same this year.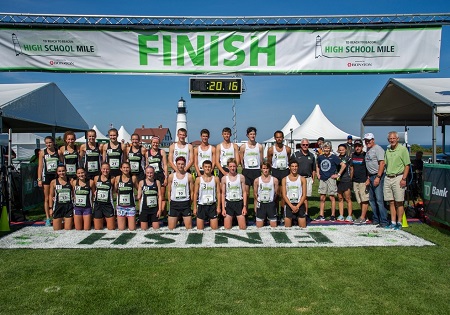 The Fort Williams event is set for 4 p.m. on Friday, Aug. 4 (prior to the Kids Fun Run across the park) at the finish line area near the Portland Head Light. It is a two-loop course that finishes across the official TD Beach to Beacon finish line. Each race will be scored and timed using the FinishLynx timing system. Nike is providing singlets and shorts to the athletes. Many of the state's most accomplished young runners are participating. The 2016 winners were seniors Tia Tardy of Lincoln and John Hassett of Castine, both multi-state champions in Maine. Here is a preview of the 2017 race from Milesplit Maine: http://me.milesplit.com/articles/217206-b2b-high-school-mile-preview-2017.http://me.milesplit.com/articles/217206-b2b-high-school-mile-preview-2017
"We created this event last year to showcase the achievements of dedicated and passionate high school track athletes from throughout Maine," said Joan Benoit Samuelson, the Maine native and Olympic gold medalist who founded the TD Beach to Beacon 10K. "It's going to be an exciting second year for the event that we hope shines a light on the many accomplished young athletes in our state."
Here is the list of 2017 participants (with grade, HS and qualifying time):
BOYS
Nick Dall 11 Waterville High School 4:27
Mitch Libby 12 Wells High School 4:30
Sam Russ 11 Lincoln Academy 4:35
Alec Troxell 11 Deering High School 4:36
Troy Hendricks 12 Sacopee Valley 4:36
Griffin Allaire 10 Wells High School 4:38
Matthew Todd 11 Greely High School 4:38
Dominic Sclafani 12 Oxford Hills Comprehensive HS 4:39
Aiden Willey 10 Bonny Eagle High School 4:41
Evan Merchant 11 Jonesport-Beals High School 4:46
Harrison Osborne 11 Scarborough High School 4:47
Jack Bassett 10 Cape Elizabeth High School 4:47
Evan Desmond 12 Caribou High School 4:48
Max Bartley 12 Presque Isle High School 4:52
Gabriel Calandri 12 Kennebunk High School 4:52
GIRLS
Carolyn Todd 11 Greely High School 5:16
Lily Horne 11 Freeport High School 5:18
Miranda Durcan 10 Kennebunk High School 5:19
Anna Slager 12 Gorham High School 5:20
Iris Kitchen 10 Gorham High School 5:20
Emily Carty 12 Fryeburg Academy 5:25
Ashley Irby 11 Saltus Academy (Bermuda) 5:25
Isabella Pols 12 Brunswick High School 5:27
Jillian Richardson 11 Edward Little HS/Homeschool 5:30
Hailey Applebee 10 Windham High School 5:31
Leia Dorais 12 Biddeford High School 5:31
Olivia Skillings 12 Maine Coast Waldorf School 5:32
Camilla Grosso 11 Cape Elizabeth High School 5:34
Micaela Ashby 10 Brunswick High School 5:34
Megan Alberding 11 North Yarmouth Academy 5:45
Samantha Halmos 12 Poland Regional High School 5:55
Lauren Morrison 11 Mattanawcook Academy 6:13
Media Contact: TD Beach to Beacon High School Mile Coordinator Morgan Lake Adams at mlakeadams@gmail.com or Jason Wolfe jason@wolfenews.com
Gameface is Back with – Free Photos for All Runners
Sure to put a smile on the faces of runners, Gameface Media is returning again this year to provide free professionally shot race photos for all participants in the 20th running of the TD Beach to Beacon 10K participants.
Gameface debuted the program two years ago in partnership with TD Bank, America's Most Convenient Bank®, to provide an added perk for runners. The program proved a resounding success, based on feedback from runners who in the past were required to purchase race images from outside vendors. Gameface Media's photographers will again be scattered throughout the course to capture great moments and accomplishments for all participants, who will then be able to easily download and share the images across all major social media platforms in the days following the race.
There won't be mirrors available along the course, but runners who care about such things should be prepared to work up a smile for the GameFace photographers stationed at Mile 1.8, Mile 3, before the turn onto Shore Road, Mile 5 and at the Finish Line.
Media Contact: Gameface CEO David Lavallee, david@gamefacemedia.com
Elite Wheelchair Race Most Competitive Ever
Fittingly for the 20th race, this year's men's wheelchair division is the largest and deepest in the history of the TD Beach to Beacon. The racers with the three fastest times ever on the course – Tony Nogueira (22:17), Krige Schabort (21:53) and James Senbata (21:46) – will square off in the men's race -while the women's race will see multiple competitors for the first time in recent memory.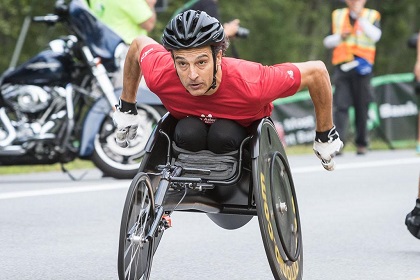 Nogueira, 49, of Glen Ridge, N.J., is the defending champ and a familiar name to TDB2B fans as he will be in search of his 11th title in 2017. Nobody has more wins in a major category in race history. Schabort, 53, of Rome, Ga., shattered the course record when he won the 2013 race. Senbeta, 30, of Champaign, Illinois, then lowered the record in winning the 2015 race, with Nogueira just behind in 22:17, his best time on the course. Perhaps inspired, Nogueira, who won in 1998, 2000, 2001-02, 2004-05, 2009, 2011 and 2014, returned in 2016 (photo right) to win in a commendable 22:45, his second fastest time ever, so he appears up to the challenge.
Other competitors include Hermin Garic, 27, of Utica, N.Y.; Olarinde Omojola, 28, of Hillside, N.J.; Gary Brendel, 58, of Sterling, Mass.; Richard Agee, 37, of Brooks, Ky.; and Jason Robinson, 14, of Utica, N.Y. Agee and Robinson are first-time competitors at the TD Beach to Beacon.
In the women's race, Christina Kouros' win streak is in jeopardy. The 22-yer-old Cape Elizabeth woman is seeking her fourth straight win, and fifth in six years. But this year the race favorite is newcomer Hannah Babalola, 29, of Newark, N.J., who won the B.A.A. 10K in June. She will be challenged by another newcomer, Yen Hoang, 20, of Champaign, Illinois, who is the 2016 Falmouth Road Race champion.
UNUM is the prize money sponsor for the event, awarding $3,500 in total, split $1,000/$500/$250 for each race. The wheelchair athletes will again be graciously hosted by Kindred Living - at Village Crossings, an assisted living facility in Cape Elizabeth.
Contact: For more info on the wheelchair athlete program, contact Deb Maxfield, Maine Adaptive Sports & Recreation 207-824-2440 x1104 dmaxfield@maineadaptive.org
Host Families Welcome World-class Athletes to Cape Elizabeth
Each year, families from Cape Elizabeth and surrounding areas open their homes – and their arms – to elite athletes from around the world. These incredible athletes who arrive from East Africa, Europe, the Far East and elsewhere around the globe (and the U.S.) connect with families in Maine for a cultural experience that rewards both the host family and the athlete.
The race's home stay program is one of the most popular and among the world-class distance runners – it's a main reason why some athletes want to return year after year.
We can help arrange interviews with families or help media do a story on the program itself, which promotes cultural awareness as athletes and their host families often swap recipes, customs and stories. More and more local families from the area get involved each year; however, there are some families who have participated for many years now. And those bonds between athlete and family are growing stronger and more connected. We can supply names of families and their runners.
Media Contact: Kathy Tarpo, Host Family Coordinator, can provide info about which athlete is staying with what family as well as when they come into town. Contact Kathy at kmtarpo@gmail.com or Larry Barthlow, the elite athlete coordinator, who can assist in reaching runners, at larry@worldeventnetwork.com,
TD Beach to Beacon Earns Evergreen Status for Sustainability Efforts
The TD Beach to Beacon 10K has a long history of commitment to the environment. Last year the race achieved highly coveted Evergreen status, becoming the first major road race of its size in North America – and only the sixth event ever worldwide – to earn the distinction, joining the ranks of the 2015 Waste Management Phoenix Open and the 2016 IAAF World Indoor Track & Field Championships, said Bruce Rayner of Athletes for a Fit Planet, the race's sustainability consulting partner.
Race Founder Joan Benoit Samuelson said the TDB2B's environmental practices reflect the values of the race and the state of Maine. "It is the right and sensible program at an iconic event in Maine where we, as both a state and an organization, take pride in our recreational and environmental opportunities," Samuelson said. "Conservation is to the environment what prevention is to health and the two are inextricably linked and showcased at the TD Beach to Beacon."
The Evergreen Certification from the Council for Responsible Sport required a rigorous review of the TD Beach to Beacon's environmental and social sustainability programs, which range from comprehensive recycling to reducing carbon emissions to raising money for charities and leaving a positive legacy in the community.
The non-profit, Oregon-based Council for Responsible Sport, founded in 2007, provides objective, independent verification of the socially and environmentally responsible work event organizers are doing around the globe. The process is meticulous as event organizers are required to provide a detailed measurement and documentation of greening efforts and outcomes.
This year, the TD Beach to Beacon 10K seeks to improve on its already-impressive 2016 recycling and composting waste diversion rate of 90 percent, with the long-term objective of achieving "zero-waste" status.
Here is a closer look at some of the other activities taking place:
Bike valet program. The race is again offering free bike parking at Fort Williams for runners – and extending the service to volunteers and spectators as well. Those interested in the service MUST register at http://www.beach2beacon.org/bike-valet-program. Also, for more information, email bruce@afitplanet.com.
Give worn-out shoes a brand-new life. Instead of throwing old sneakers out, participants are encouraged to toss them into the Nike Reuse-A-Shoe bins at the Expo. They are then recycled to be used in new places to play and train - like tracks, field, courts and playgrounds. Athletic shoes only, any brand OK, no damp or muddy shoes, no metal, cleats or dress shoes, no sandals or flip-flops. Visit www.nikereuseashoe.com for more info.
Rideshare to the race. Every mile driven produces about a pound of CO2. To help reduce the race's carbon footprint, runners, family and spectators are encouraged to share a ride to the Expo and the race and/or use satellite parking and take a shuttle bus.
Offset carbon footprint. As part of the Council for Responsible Sport certification, the race offers runners the opportunity to offset their carbon emissions resulting from travel. Athletes for a Fit Planet is partnered up with Native Energy to offer a cheap and convenient way to offset the CO2 emissions from you travel. For $3, you can buy a Green Tag that offsets 300 pounds of CO2, which is about 300 miles of travel.
Eco-friendly portable toilets. They use only recycled paper and non-toxic chemicals.
Satellite parking. Race organizers are providing transportation to and from the race from satellite parking lots at the Hannaford corporate headquarters in Scarborough and SMTC in South Portland as well as from the Cape Elizabeth High School and Middle School lots.
Non-toxic paint. Brite Stripe Ultra-Friendly, the turf industry's only VOC-free paint and the only one to receive EPA approval, is used for the Start and Finish lines.
Paperless registration. Runners register online only, and the majority of the race's communications to runners are conducted via e-mail and through its website.

For more information about eco-initiatives, visit the Green Page at www.beach2beacon.org/green
Media Contact: Contact Bruce Rayner, Chief Green Officer at Athletes for a Fit Planet – (508) 380-0868 bruce@afitplanet.com. Athletes for a Fit Planet is a leading provider of eco-services for athletic events in the U.S. and Canada. The company advises event organizers on cost-effective strategies, and products and services for reducing, recycling and composting waste, reducing and offsetting greenhouse gas emissions, and minimizing the impact of the event on the local environment.
iResultsLIVE Display Feature Expanding at TD Beach to Beacon
The iResultsLIVE system for runners will once again be at the Finish Line, providing runners with the opportunity to view their results instantly at any one of 16 kiosks. They will find a large-screen monitor that automatically reads their bib and displays race results simply by walking up to it. The monitor can also speak and will announce their name and finish time.
In addition, a custom-built digital race clock is available to display a runner's name and finish time, creating a unique photo opportunity.
At the iResults kiosks, runners can search either by bib number or by last name, and view overall results and results for each age-group. High speed, auto-cut printers will be available on some of the kiosks so results can be printed on the spot. The aim of the kiosks is to eliminate the need for posting paper results. The system is wireless and waterproof and the kiosks will be mounted in steel housings bolted to a table for security.
For more information, visit the company website at www.iresultslive.com
Media contact: Inventor and iResults owner Steve Delahunty is available at steve.delahunty@gmail.com
TD Bank Leading the Corporate Partners who Fuel the Race
Without the help of title sponsor TD Bank, America's Most Convenient Bank®, and the race's other corporate partners, the TD Beach to Beacon 10K would not be the world-class event that it is. TD Bank first met with Olympic Gold Medalist Joan Benoit Samuelson two decades ago to create this premier running event in her home state, beginning in 1998.

Corporate partners Nike, Hannaford, Poland Spring and MaineHealth also jumped on board that first year and have supported the race ever since. Other long-time sponsors are IDEXX, Northeast Delta Dental, WCSH6, Olympia Sports and now Maine Magazine. Also, Oakhurst Dairy, another veteran race sponsor, expanded its role this year and will present both youth-focused events – the B2B High School Mile and the Kids Fun Run – in Fort Williams on the eve of the 10K race,
"Just like the world-class runners we attract each year, our sponsors include some of the most recognizable and trusted names in Maine, the region and around the world," said Race President Mike Stone.
He added, "It's hard to describe just how grateful we are for the generous and vital support we receive from our sponsors, new and returning. In addition to being a world-class road race, the TD Beach to Beacon 10K truly has grown into a celebration of health and fitness for the entire region. The stature of this race would not be maintained without the continued support we receive from all our sponsors. We can't thank them enough."
Larry Wold, President of TD Bank in Maine, is among the 117 legacy runners who have taken part in all 19 previous TD Beach to Beacons. Wold, 58, a Freeport, Maine resident, is an active member of the community and is involved in a number of fundraising events and causes. He joined the company in 1991. If interested in a story about someone who is a leader at TD Bank AND has run the race all 19 years – and will run his 20th this year, Wold would make a great feature story. Plus, he's no slouch as a runner.
MEDIA CONTACT: FMI, contact Beryl Wolfe at beryl@wolfenews.com or visit the race website at www.beach2beacon.org or the bank's site at www.tdbank.com
Photo Op at Bib Pickup and Expo on Aug. 3 and 4
Like almost all aspects of the TD Beach to Beacon 10K, the race's Expo rates right up there for variety and the sheer number of vendors. There is something for everybody. The Expo runs alongside bib and t-shirt pick up, which is from 4 p.m. to 8 p.m. at Cape Elizabeth High School Thursday and Friday, Aug. 3 and 4.
This year, exhibitors will include Nike, Maine Magazine, Thos, Moser, Hannaford, Northeast Delta Dental, Oakhurst Dairy, AAA of Northern New England, Anthem, MaineHealth, Let's Go, Spectrum, Cabot Cheese, L.L. Bean, Ocean House Realty, Terra Cotta Pasta, Cancer Community Center, The Donna Foundation, Riverview Foundation, Be The Match Community Partner, Cape Elizabeth Cross Country, Maine Track Club, R U SEEN Refletive Apparel, National Running Company, Scarborough Family Chiropractic, Fartlek Jewelry, INATE Family Chiropractic, Oculur Eyewear, Back in Motion, Handy Spandy, Fleet Feet, Janji Running Apparel and the Bermuda Marathon.
Race beneficiary Let's Go! also will have a booth as well, where attendees can learn more about its 5-2-1-0 program to increase physical activity and healthy eating in Maine kids. With the flurry of activity, anticipation and interesting exhibits and giveaways, the Expo and registration are an ideal pre-race photo op.
Media Contact: The coordinator of the Expo is Angela Best, who can be reached at bestn92@gmail.com (207) 233-4216.
Joan Benoit Samuelson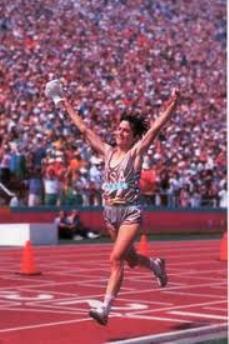 TD Beach to Beacon founder Joan Benoit Samuelson, 60, is a running icon who remains Maine's most well known and accomplished athlete. She is an inspiration and a role model for girls and women around the globe. Her quiet determination, on display for the entire world to see during her marathon victory at the 1984 Olympics, played a key role in making her dream of staging a major road race in Cape Elizabeth a reality.
Joan works tirelessly on the race that she started as evidenced by her race-day activities, which includes presiding at the start, personally greeting hundreds and hundreds of runners at the finish, posing for pictures and welcoming dignitaries, and quite often helping with the post-race cleanup.
She also continues to inspire on race courses around the country by competing at a high level still, setting numerous age-group records along the way. But Joan's legacy goes well beyond her records. She is a strong advocate for the environment, children and healthy choices.
In honor of the 20th running of the race, Joan will join the TD Beach to Beacon field for only the fourth time (she runs every five years).
Media Morning at the Fort on Wednesday, Aug. 2: Wolfe PR has organized a "Media Morning at the Fort with Joanie" – e-mail, call or text Beryl Wolfe to schedule a one-on-one, 15-minute interview beryl@wolfenews.com (520) 399-5770.
Media Contact: To set up interviews with Joanie re: the race, contact Beryl at Wolfe PR, beryl@wolfenews.com.
Race Director Dave McGillivray and His Remarkable TEAM DMSE
Ever notice how seamless the TD Beach to Beacon operates on race day each year? A mass of humanity moved along a narrow roadway and yet, a few hours after it is finished, you hardly knew it was there. That's the work of TEAM DMSE.
Dave McGillivray and his team of 50+ at DMSE Sports make it look easy, but there are endless steps, countless details and innumerous obstacles in making the TD Beach to Beacon happen. In addition to the B.A.A. Boston Marathon, DMSE directs the New Balance Falmouth Road Race on Cape Cod and about 30 other major race events throughout the U.S. and overseas, and he's been doing it since 1981.
McGillivray's race organizing abilities are almost as interesting as his amazing personal achievements.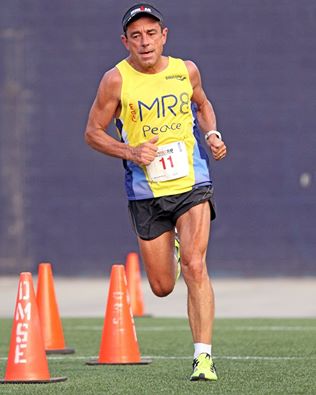 McGillivray is an accomplished endurance athlete, motivational speaker, author and a noted sports philanthropist, committed to children's fitness and charitable organizations. He first gained national prominence with his 1978 cross country run - from Medford, Oregon to Medford, Mass. - that took 80 days and raised almost $150,000 for the Jimmy Fund – the first money any runner ever raised for a cancer charity, according to Runner's World. He has completed a number of similar feats of endurance since his groundbreaking cross country trek, including a second cross-country run in 2004 from San Francisco to Boston as part of TREK USA, a relay team event that raised more than $300,000 for five children's charities.
Over his career, McGillivray has logged more than 150,000 miles and completed nine Hawaii Ironman Triathlons in addition to his 146 marathons. In April, McGillivray ran his 45th Boston Marathon – 30 at night, after directing it during the day.
A Medford, Mass. native who lives in North Andover, he is a pioneer in what is now one of the most important aspects of the endurance sports industry – combining athletics with philanthropy. Nearly every DMSE Sports event combines fitness and fundraising, giving back to the Jimmy Fund and Dana-Farber Cancer Institute, Children's Hospital, Lazarus House and many other charities and non-profit organizations in New England and across the country. He along with all the events he has directed have helped raised more than $100 million for charity over the years.
A feature on McGillivray or the DMSE effort during the week of the race could be a compelling story with strong visuals as the Route 77 start, race course and Fort Williams are transformed into a major international running event. Steps include the Start Line Painting the Sunday before the race, tent and fencing set up at the finish area next to the Portland Head lighthouse to signage along the course, plus press trucks, the Medical Tent, awards area, etc., not to mention the quick breakdown after the race is over.
Media contact: Beryl Wolfe, beryl@wolfenews.com or Dave McGillivray, DMSE Sports, dmse@dmsesports.com
American Prize Money Again Sweetens Pot for Top U.S. Distance Runners in Elite Field
For the third year, Dunkin' Donuts is providing the $23,000 prize purse for American men and women – a development that has helped transform the TD Beach to Beacon into a 'must' event for many of the top U.S. distance runners.
The American prize money is be split evenly among the top five men and women and breaks down like this: $5,000 for first, $3,000, $2,000, $1,000 and $500. The men's and women's winner in the Open category of the race receives $10,000 (with money descending down 10 places), so an American overall winner would pocket a total of $15,000 in prize money – like Ben True did last year when he became the first American runner in race history to win the race. In addition, a $2,500 bonus, sponsored by Northeast Delta Dental, is available for a new course record in the Open category – a prize Mary Keitany of Kenya claimed last year while winning the women's race in 30:45.
Race organizers on July 20 unveiled the 28-runner elite athlete field for the 2017 race. Both True and Keitany are returning to defend their titles. They will be challenged by a stellar field, including top Americans Shalane Flanagan and Jordan Hasay, two-time Olympic gold medalist Meseret Defar of Ethiopia, a trio of former champions – Joyce Chepkurui and Stephen Kosgei Kibet of Kenya and Ethiopian Wude Ayalew – and a host of other Olympians and All-Americans.
Elite Athlete Fields for the 2017 TD Beach to Beacon 10K (updated thru July 24)

WOMEN
Mary Keitany Kenya
Wude Ayalew Ethiopia
Joyce Chepkirui Kenya
Shalane Flanagan USA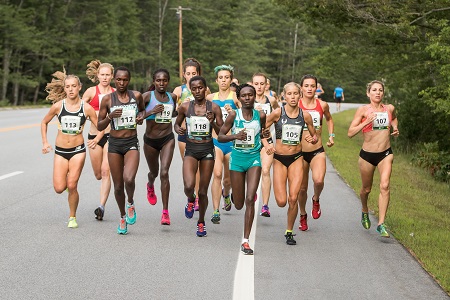 Jordan Hasay USA
Meseret Defar Ethiopia
Diane Nukuri Burundi
Purity Rionorijpo Kenya
Erin Finn USA
Liz Costello USA * withdrew 7/25. fatigue
Emma Bates USA
Katie Matthews USA
Margo Malone USA
Emma Ketesz, USA

MEN
Ben True USA
Stephen Sambu Kenya
Stephen Kosgei Kibet Kenya
Leonard Kiplimo Barsoton Kenya
Tariku Bekele Ethiopia
Will Geoghegan USA
Danny Abera Ethiopia *withdrew 7/27
Cam Levins Canada
Clement Langat Kenya *added 7/27
Jonathan Grey USA
Mason Ferlic USA
Abdi Abdirahman USA
Aaron Braun USA
Dan Hulings USA
Ty McCormack USA
MEDIA CONTACT: FMI on the American and elite field, contact Larry Barthlow, the elite athlete director, at larry@worldeventsnetwork.com.
TDB2B Showcase Event for Maine Runners
The elite distance runners from around the world who come to Cape Elizabeth get much of the attention, but the competitiveness of the race among Maine's top runners is also a worthwhile story. One thing has become clear over the years, Maine produces a number of runners who can compete on the national stage (see above re: Ben True, Riley Masters and Sheri Piers come to mind), and many have showcased their talents by winning the TD Beach to Beacon 10K to earn the title as the state road race champion.
Defending champion Jesse Orach of Gorham is returning and will try to be the first repeat winner in the men's race since True in 2008-09. Orach is favored along with Ben Decker of Yarmouth, the 2015 champ and a senior at Williams College. Decker has spent the past two months in Kenya. Other contenders include Liam Simpson, a Cape Elizabeth graduate who is also a senior at Williams, as well as Rob Gomez and Alex Moser.
In the women's race, defending champ Michelle Lilienthal, 35,of Portland (who also won in 2015 in a course record 33:39) is the favorite to become one of four Maine women with three titles to their name. She will be challenged in her bid by Emily Durgin, 23, of Standish, a former Cheverus High and University of Connecticut standout. Durgin, who missed last year's race due to injury, has a second (2015) and a third (2013) to her credit and would like nothing more than to add a first. Other contenders include the ageless Sheri Piers, 46, one of those three-time Maine champs (along with Julia Kirtland and Emily Levan) who also is favored in the elite Master's category, Leah Frost, and Sofia Canning, a senior at Dickinson.
MEDIA CONTACT: Former race president David Weatherbie dweatherbie@seafax.com can provide valuable insights into the status of Maine runners.
Runner Health Topics Discussed at Sports Medicine Symposium Aug. 3
A range of health topics for runners, including heat stroke, hydration options and allergies, will be discussed as part of a Sports Medicine Symposium on Thursday, Aug. 3 in Portland.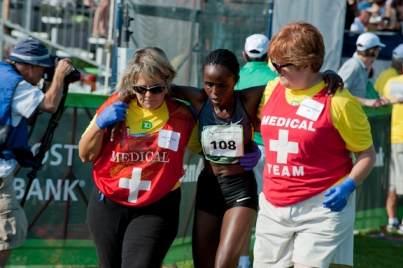 Hosted by the medical team for the TD Beach to Beacon 10K Road Race, the symposium will take place from 5 to 8 p.m. in the Dana Center Auditorium at Maine Medical Center. The free event, which kicks off race weekend, is aimed at runners, medical personnel and anyone interested in running and wellness.
The schedule is:
5:30 p.m. - Maximizing Performance and Safety During Intense Exercise in the Heat, Doug Casa, PhD, ATC
6:15 p.m. - Stress Related Injuries in Endurance Athletes, Adriana Isacke, MD
6:30 p.m. - The Role of EMS in Large Scale Events, Paul Beaupre, EMT-P
7:00 p.m. - Medical Coverage at the TD Beach to Beacon Road Race, Chris Troyanos, ATC
Media are invited to cover the event. "This program is a great way to keep everyone informed about the latest in health and fitness and running," Medical Coordinator Chris Troyanos said. "With heat being a factor for summer races, we thought telling participants how to maximize their performance while being safe is a good topic for all of us."
In addition to the TD Beach to Beacon, Troyanos has also served as Medical Services Coordinator for the Boston Athletic Association (B.A.A.) for the past 28 years, providing medical guidance to the Boston Marathon and many other large road races across the country.
The medical tent at the TD Beach to Beacon brings together physicians, EMTs, nurses and other medical professionals from across the region who volunteer their time to provide top-notch medical care to runners.
Media Contact: Chris Troyanos, Medical Coordinator of the TD Beach to Beacon 10K troyanos@comcast.net.
The volunteer effort at the TD Beach to Beacon 10K is huge and is often taken for granted. It shouldn't be. Coordinating more than 800 volunteers is a monumental task that requires patience, perseverance and a certain amount of guile. Volunteer Director Maya Cohen of Cape Elizabeth has developed and each year executes a program that involves coordinators who oversee volunteers in more than 20 different areas, from the High School Mile and Kids Fun Run on Friday to the Medical Tent to water stations, parking, security, course set up and breakdown, and the award-winning sustainability efforts. This year, Cohen has been given the added responsibility of staffing volunteers to distribute special medals commemorating the 20th running to all finishers – volunteers are still needed in this key area as well as others. Those interested register online at http://www.beach2beacon.org/VOLUNTEER.
Media Contact: To do a story or interview someone, contact Maya Cohen at (207) 838-8816 or cohemm@gmail.com
Friday at the Fort Focused on Youth
Race weekend will now include a more coordinated, youth-focused slate of activities on pre-eve Friday at Fort Williams. Oakhurst Dairy, the longtime sponsor of the Kids Fun Run, has expanded its role and will also sponsor the B2B High School Mile.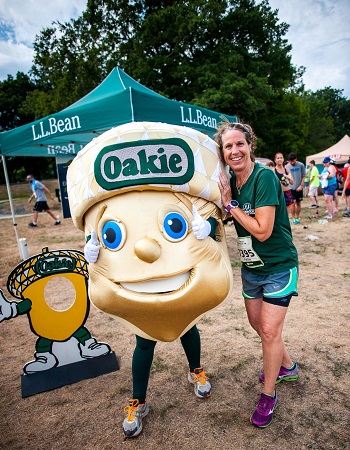 "With last year's successful launch of the B2B High School Mile, pre-race Friday at the Fort has become a showcase for promoting the health and achievements of Maine youth of all ages," said Race President Mike Stone. "Oakhurst Dairy has long supported the Kids Fun Run, so seeing them add the high school mile this year is so gratifying as it's a natural fit and will take the level of excitement and enthusiasm for both events even higher. Oakie the Oakhurst Acorn is going to have a busy day!"
Last year's inaugural high school mile event drew many of Maine's top young runners and also attracted 400+ spectators to cheer them on, exceeding nearly everyone's expectations. The athletes run a two-loop course beginning near the Portland Head Light and ending across the official TD Beach to Beacon finish line in Fort Williams. The event is set for 4 p.m.
The Kids Fun Run, set for 6 p.m. at the Soccer Fields at Fort Williams, remains one of the most photogenic and popular aspects of race weekend. Open to children 12 and under, with different distances for different age groups, the races are run in heats according to age. Refreshments and finishing prizes are handed out after the races. Joan, Race Director Dave McGillivray and elite athletes also will be on hand to help with the event.
Click here to find out more about what Oakhurst is planning as part of its sponsorship.
Media contact: Dave McGillivray dmse@dmsesports.com, Morgan Lake Adams, Kids Fun Run at 207-329-7522 or mlakeadams@gmail.com.
Past Race Beneficiaries – A Gift that Keeps On Giving
Getting named the beneficiary of the TD Beach to Beacon 10K is a great help to Maine's non-profit community – and it doesn't end on race day. Each beneficiary receives a $30,000 donation from the TD Charitable Foundation in addition to the publicity and prestige that goes with the title. But this is a gift that keeps on giving.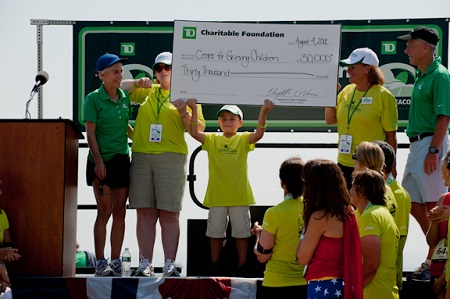 A story idea might include talking with some past beneficiaries about how the race continues to benefit their non-profit organizations. Here's a list of past beneficiaries: http://www.beach2beacon.org/pastbeneficiaries
TD Bank has now donated $600,000 to Maine charities over the 20-year history of the TD Beach to Beacon, while many past beneficiaries continue to raise significant funds each year through the race's charity bib program. In fact, the charity bib program has enabled past beneficiaries to raise an additional $1.5 million – and counting – as that amount grows each year.
For many of the Maine nonprofits in the program, the revenue generated from the TD Beach to Beacon is relied on each year to help cover essential services or to maintain or expand a new program, based on feedback from those organizations.
Last year's beneficiary, My Place Teen Center, raised an additional $22,416 through bib fundraising and other activities for a total of $52,416, while the 2015 beneficiary, Good Shepherd Food Bank, raised a total of $76,344, including the $30,000 cash donation from the TD Charitable Foundation.
Meanwhile, Let's Go!, the 2017 beneficiary, has nearly reached its goal to match the TD Charitable Foundation donation from race bib fundraising and other efforts ($25,000 raised thru early July) tied to the TD Beach to Beacon designation.
"The funds we continue to raise each year through the TD Beach to Beacon beneficiary bibs are essentially a reliable stream of revenue, which is all too rare in the nonprofit world," said Lori Southworth, Director of Grants and Special Events for the Susan L. Curtis Charitable Foundation, the 2008 beneficiary.
"The runners who fundraise for our beneficiary bibs are so appreciative of being able to secure a bib - and of being able to help a worthwhile program at the same time," she added. "It's a win-win outcome, and we feel very fortunate that our nonprofit is part of the legacy of such an important, even historic event every year."
Past and present race beneficiaries say they also benefit from increased publicity and awareness by being associated with one of Maine's premiere sporting events, which pays dividends for years to come by attracting new donors, goodwill and other financial support.
"The race has a positive impact on so many organizations, most for more than a decade after they were named the race beneficiary," said volunteer Race President Michael Stone. "It is truly is a gift that keeps on giving."
Media Contacts: Jason Wolfe at Wolfe PR jason@wolfenews.com can assist in reaching representatives at various past race charities. Or contact Donna Dwyer at My Place Teen Center directly at donna@myplaceteencenter.org 207-854-2800.
TD Beach to Beacon Brings out the Best
Running legend Joan Benoit Samuelson and longtime Boston Marathon Race Director Dave McGillivray grab the headlines for the role they play in creating this prestigious event, but there are a host of other "household names" in the running industry, on both a national and regional level, whose participation has helped elevate the stature of the race. Here's a rundown of some of these top professionals who will again make their way to Cape Elizabeth on Aug. 5:
Toni Reavis – Race Announcer
Known as "The voice of running in America", Toni Reavis has been informing and entertaining audiences for over 30 years with his signature baritone pipes, encyclopedic knowledge, and sharp wit. He will call the men's race from the bed of the media truck on race morning.

One of the most respected names in running journalism, Reavis pioneered the widespread coverage of running on radio and television beginning with his seminal Runner's Digest radio show in Boston in 1977. Throughout the 1980s and `90s he helped bring the sport to public attention as a columnist for the Boston Herald, co-host of ESPN's "Running & Racing Show, and host of ESPN's Road Race of the Month series.

His annual work on such major events as the New York, Boston, Chicago and Los Angeles Marathons has earned him numerous regional Emmy awards. He has also commentated on the top Diamond League track & field meets of the world, leading Runner's World Magazine to call him "The most insightful – and funny – talking head in running."

Reavis in San Diego where he writes his influential tonireavis.com blog. He serves on the board of directors of the Entoto Foundation, a charity that brings needed health care to Ethiopia.
Chris Troyanos – Medical Coordinator
Chris Troyanos, ATC, the Medical Coordinator of the TD Beach to Beacon, has provided medical guidance to some of the largest races in the country and was instrumental in the pre-planning and the coordinated response for the 2013 Boston Marathon.
In fact, Chris has been the Medical Services Coordinator for the Boston Athletic Association (B.A.A.) for the past 28 years. In addition, he is founder and president of Sports Medicine Consultants, a company dedicated to providing medical care at large scale athletic events. He was recently named the Executive Director of the International Institute for Race Medicine (IIRM), an organization dedicated to medical education and research for endurance events around the world. A certified athletic trainer (ATC), Troyanos also is an experienced public speaker who addresses groups about medical services and security concerns for large-scale athletic events. From 1977 to 1995, Chris volunteered as the coordinator of athletic training services with the B.A.A., which means he just completed his 40th year with the Boston Marathon. Since 1996 has taken on a leadership role organizing a medical committee of more than 50 medical professionals and 1,700 on-site medical volunteers at this historic sporting event. Chris lives in Norfolk, Mass.
Andy Schachat – Finish Line Announcer
Andy Schachat has been announcing at the finish line of the TD Beach to Beacon since year two, the 1999 race. He is often referred to as the voice of "Southern Maine, New Hampshire, and Eastern Mass. road races" In addition to the TDB2B, Andy has been the finish line announcer at the Boston Marathon, New Bedford Half Marathon and the Northeast Delta Dental Mount Washington Road Race, to name a few. He has announced more than 1,000 races in total.

Larry Barthlow – Elite Athlete Coordinator
Larry has for many years been responsible for recruiting the world-class athletes for the TD Beach to Beacon. A globetrotter with an encyclopedic memory of runner statistics and accomplishments, he has consistently put together stellar fields of elite athletes as president of World Events Network, which provides sports marketing consulting specializing in athletics and mass participation sports. Larry's deep knowledge is on full display at the annual TDB2B press conference each year, where he recites runner bios and specific times and statistics without notes. Larry presently lives in Mexico and travels the world to recruit runners.
Ron Kramer – Lead Vehicle Coordinator
Ron Kramer has served as race director for the Lady Speed Stick® Women's Half Marathon Series throughout the U.S. and as operations manager for a number of races including the Denver Marathon, and Marathon of the Palm Beaches. He is currently race director for the Newburyport (MA) Half Marathon, and since 1991, the lead vehicle coordinator for the B.A.A. Boston Marathon and its annual series of 5K, 10K, and half marathon races. Ron organized the TREK USA relay run in 2004 from CA to MA that benefited the charitable foundations for the five Boston sports team, and the 2007 relay from MA to FL for the DMSE Foundation. His charitable interests have also included the role of captain and navigator for Swim Across America since 1987.
Ron's athletic accomplishments include completing over 50 marathons (15 Boston Marathons), three 50-mile ultra-marathons, two 24-hour runs, and five marathons as a competitive race walker, winning his age-group division (50-59) at the Disney Marathon in 2001. Since then he has turned to cycling, and rides each year the CT Challenge to benefit cancer survivors. A resident of West Palm Beach, Fla., Ron is originally from Boston, a graduate of Latin School and Boston University. He worked for 37 years as a salesman for Pacific Packaging Products and also served on active duty aboard the U.S.S. Miller Destroyer 535.

Chris Lane – Start Line Official
Chris oversees all activity related to the finish line area of the TD Beach to Beacon. He has more than 50 years in officiating and event leadership at the local, regional, national and international level. Chris, who has been working with DMSE Sports since 1985, has officiated at the Boston Marathon since 1967, serving as the designated Coordinator of Officials since 1987.
Chris was a High School All American in track and served as a coach for 25 years at Boston College, Brandeis and M.I.T. He is certified as a Master Official by USATF in a number of areas, including refereeing track & field and long-distance running, and has also served as President of the Massachusetts Track and Field Officials Association (MTFOA). Chris has been the recipient of numerous recognitions from the MSTCA and MIAA for his long and distinguished officiating career, and was inducted into the MSTCA Hall of Fame in 2011. He is retired from Boston Public Schools, where he had a 43-year career as a teacher and administrator.

Bob Teschek – Official Race Timer
Bob is owner of Granite State Race Services (GSRS) and he and his crew have served the TD Beach to Beacon from the very beginning. GSRS is considered one of the premier timing companies in the country.
NOTE TO REPORTERS/EDITORS: For more information or assistance with any of the above items that do not contain contact info, please contact Beryl or Jason Wolfe at Wolfe PR – (520) 399-5770 or 5097, or by e-mail, beryl@wolfenews.com, jason@wolfenews.com. Also, bios, a Fact Sheet, past results, statistics, news releases, a course map and other race materials are available at www.wolfenews.com and on the race website. Thanks!

NOTE: Wolfe News Wire is an online source for news and information about noteworthy companies and organizations. We invite you to share this content and/or leave a comment. Background info and past news items from a specific organization can be found by clicking the side logos. For more info, please email info@wolfenews.com. Thank you!
©2015 Wolfe Public Relations. All Rights Reserved.