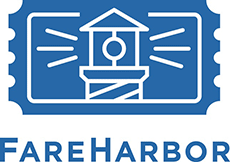 FareHarbor (www.FareHarbor.com) offers a host of turnkey enterprise-level services to tour and activity companies worldwide as well as a seamless link between tour operators and third-party resellers. Founded in Hawaii in 2013 by brothers Lawrence and Zachary Hester, FareHarbor forms a partnership with each tour and activity company it works with, providing a suite of services that includes website upgrades, 24/7 support, streamlined booking and scheduling, and a comprehensive back end system. As one of the fastest growing booking and reservation software companies in the U.S., the firm has offices in Hawaii, California, Colorado and Massachusetts.
Below is an archived list of more news about FareHarbor:
10/11/2017 -- FareHarbor Releases the Tour & Activity Industry's First Predictive Pricing Platform Powered by Artificial Intelligence
06/17/2016 -- FareHarbor Doubles Customer Base in Nine Months and Now on $1 Billion Transaction Run Rate
11/13/2015 -- FareHarbor Partners with Viator for Innovative Supplier API System Integration
10/08/2015 -- FareHarbor Surpasses One Million Tour Bookings in 2015 Totaling $150 Million
09/09/2015 -- FareHarbor Reservation Management Platform Implemented by Segway Authorized Tour Operators
08/22/2015 -- FareHarbor Saves Its Tour and Activity Operator Customers Money Yet Again With Industry's Lowest Credit Card Rate
06/13/2015 -- FareHarbor Transforming How Charleston Tour and Activity Companies Generate Bookings
06/11/2015 -- FareHarbor Transforming How Charleston Tour and Activity Companies Generate Bookings
NOTE: Wolfe News Wire is an online source for news and information about noteworthy companies and organizations. We invite you to share this content and/or leave a comment. Background info and past news items from a specific organization can be found by clicking the side logos. For more info, please email info@wolfenews.com. Thank you!
©2015 Wolfe Public Relations. All Rights Reserved.