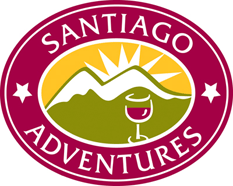 Santiago Adventures offers high quality tours to the mountains, coast and vineyards of Chile. Tours range from active day tours, in the Santiago region, to specialty tour packages throughout Chile. Clients are mainly English-speaking travelers with a desire to explore the beauty of Chile while leaving the details to us.

Combined, owners Brian Pearson and Sira Berte have more than than 30 years of professional work experience. Sira has an MBA and Brian a Master in Health Finance. In the midst of successful careers in the United States, the couple moved to Chile in 2003 to follow their dream to travel and live in South America and pursue a shared passion of outdoor adventure.

Santiago Adventures is the product of their desire to share the experience of Chile with others.

Since arriving in 2003, the couple has traveled throughout Chile - from the far north to the far south - and know it has much to offer. While it is by far the safest and most modern of all South America countries, Chile offers many exotic and undeveloped places to explore.

Sira and Brian have personally researched each of their tour packages and have developed unique and exciting programs. From beginning to end, clients can be assured that their experience with Santiago Adventures will be of the highest quality and that they will experience the best that Chile has to offer.

Visit www.santiagoadventures.com for more information about tours and Chile.


Below is an archived list of more news about Santiago Adventures:
02/10/2012 -- Santiago Adventures Joins Lotus Productions to Offer Tour Packages to the Lollapalooza Festival in Santiago, Chile
03/01/2010 -- Santiago Adventures Staff in Chile Safe After Earthquake
06/25/2009 -- Chile 'ÄėSki and Wine'Äô Tour Offered by Santiago Adventures
01/03/2009 -- Restored 200-year-old Hacienda Opens as Boutique Hotel in Chile's Colchagua Valley Wine Country
NOTE: Wolfe News Wire is an online source for news and information about noteworthy companies and organizations. We invite you to share this content and/or leave a comment. Background info and past news items from a specific organization can be found by clicking the side logos. For more info, please email info@wolfenews.com. Thank you!
©2015 Wolfe Public Relations. All Rights Reserved.